Michael Turner and Jason McGoldrick guilty of Hungary fraud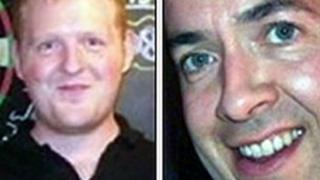 Two English businessmen have been convicted of fraud by a Hungarian court following the collapse of their time-share holiday company.
Michael Turner, 30, of Corfe Castle, Dorset, and Jason McGoldrick, 39, from Plymouth in Devon were sentenced at Budapest District Court earlier.
Turner was sentenced to five months and McGoldrick seven months. Both sentences are suspended for two years.
The men denied the charges and must pay £16,000 in compensation and costs.
The men ran a marketing firm in Budapest, offering holidays in the Canary Islands.
Their company Dream Espana collapsed in 2005 allegedly owing creditors £18,000 when it was unable to offer hundreds of Hungarian customers the time-shares they were after.
Both Mr Turner and Mr McGoldrick were held for four months in Budapest after being extradited from the UK under a European Arrest Warrant (EAW) in 2009.
South Dorset MP Richard Drax attended the trial to support Mr Turner and was critical of the time taken to reach a verdict.
He said: "I'm disappointed and saddened for both of them.
"I won't argue the rights and wrongs of the judgement as I am not a judge, but the judicial process has been simply appalling and has lasted for far too long.
"Michael and his family have suffered significant strain. His father Mark Turner has indicated to me that they will probably appeal.
"This case highlights just how dreadfully flawed the European Arrest Warrant is.
"Even if Michael Turner is guilty, the process is simply appalling. It has to be reviewed as myself and my colleagues in the House of Commons are currently pushing for."