UK needs northern prosperity to boost growth - report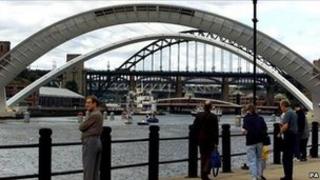 Those of us who live and work up north know that it's far from grim.
Apart from having some vibrant cities and amazing countryside, it also has economic success stories.
But a new report suggests more needs to be done to unlock its potential - not just for the benefit of people who live there but also for the good of the UK as a whole.
Return to growth
The Northern Economic Futures Commission has spent 18 months gathering evidence and considering what's going right and wrong.
But above all it was concerned with how the north could help the British economy return to significant levels of growth.
Over the last decade the three northern regions - the North West, Yorkshire and Humber and the North East - have been responsible for a fifth of the UK's prosperity, but London alone contributed more than a quarter.
And while countries like Germany, Holland and Spain have several economically-powerful cities, the UK just has London.
Why, the report asks, can't the likes of Newcastle, Leeds or Manchester be as economically significant as Stuttgart, Rotterdam or Barcelona?
The commission's solution is to move power and funding north.
It has come up with an action plan to increase the northern contribution to UK plc.
Direct flights
The commission wants air passenger duty cut significantly for northern airports for a three-year period.
It believes that could be vital in ensuring there are direct flights from Manchester, Leeds and Newcastle to the new international economic powerhouses of Beijing, Shanghai, Sao Paulo, Delhi and Mumbai.
The report also says a new body - Transport for the North - should be formed to oversee the northern rail network.
But the power and money grab wouldn't stop there.
The commission also says huge pots of government money should also be handed directly to the north.
It says a single fighting fund for economic growth should be created by handing local transport, housing, skills, regeneration and development funding directly to the north's Local Enterprise Partnerships (LEPs).
Under the recommendations £13bn of housing benefit and funding for house-building would also be transferred out of Whitehall and into the north.
Local employers would get a greater say over skills policy and the number of apprenticeships would double to 60,000 by 2015.
A Northern Innovation Council could get £1bn from the proceeds of sale of 4G mobile licences, and there would be a special northern section of a UK investment bank.
Elected mayors
The commission also wants to see powerful northern leaders emerge. It says the 11 LEPs should hold an annual summit and elect a chair.
In addition, directly elected metro mayors would take charge of urban areas such as Tyneside, Merseyside and Greater Manchester. The north, it believes, needs its own Boris Johnson.
The commissioners believe that could create 500,000 extra jobs in the north, close the economic divide with the south and boost the British economy by £41bn.
The commission was brought together by Newcastle-based think tank IPPR North.
Its director Ed Cox said: "The 'north south divide' is a stock-in-trade and 'it's grim up north' is a familiar refrain.
"Like all clichés, there is more than an element of truth in this characterisation.
"But the north is capable of taking its place in the ranks of successful northern European economies, with competitive companies trading in global markets, a fully employed and well-skilled workforce, and strong civic leadership that supports growth and shared prosperity.
"Far from lagging behind the rest of the country, if the north of England was to emulate its northern European neighbours then it might just lead the UK economy out of its present lopsided doldrums and towards a more progressive and sustainable economic future."
Rebalancing the UK
Some of the report does echo some of what Lord Heseltine recently recommended in his report, and harks back to a Victorian age when northern cities played a huge part in the UK and global economy.
The government has also repeatedly talked about rebalancing the UK and stimulating private sector growth across the north.
So some of these ideas may be welcomed.
But they also require the sacrifice of control by Whitehall - something successive governments have been reluctant to do.
So is a change of culture possible?
And does the government really want a northern Boris Johnson knocking on the door of Downing Street?
I can also imagine politicians and businesses in the West Midlands being taken aback by the idea that northern flights could be taxed at a lower rate than those leaving Birmingham.
Campaigners in the south west might also question why the north qualifies for special treatment.
But the commission is clear, the north as a whole has a population of 14.5 million people and a large chunk of its manufacturing base.
And it believes that without a focus on northern prosperity, there's less chance of the UK as a whole emerging from its current economic difficulties.