Man 'tried to murder police with butcher's shop knife'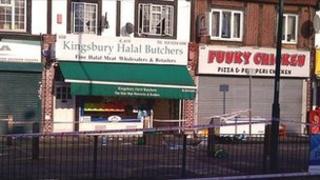 A man launched a "frenzied" attack on officers after taking a knife from a butcher's shop, a court has heard.
Christopher Haughton used the 8-10in (20-25cm) blade to inflict injuries on the police officers in Kingsbury, north London, the Old Bailey was told.
They were responding to reports of him causing a disturbance, jurors heard.
Mr Haughton, 33, of Wembley, north London, denies the attempted murder of four officers and six other charges of assault on their colleagues.
Edward Brown QC, prosecuting, said: "Some of the officers suffered very significant injuries indeed, all the result of this defendant's violence.
"It was perhaps only a matter of very good fortune that some of the police officers escaped with their lives."
The court heard that in November last year officers were called to reports of Mr Haughton causing a disturbance in Kenton Road.
At the time he was on bail following a disturbance at his girlfriend's home a month earlier when he had allegedly attacked three officers, the jury was told.
Mr Brown said attempts to calm him failed and he bit an officer's fleece, tearing it with his teeth.
Extra back-up was called for when Mr Haughton gathered masonry and other missiles and threw them at officers.
They followed him for 300m until he went into the cutting area of a halal butcher's shop in Kingsbury Road.
Shield broken
Mr Brown told the jury: "The defendant was angry and, as you will come to appreciate, directing all his anger towards the police.
"The next few moments witnessed a series of frenzied and quick-moving attacks by this defendant on the police using the butcher's knife.
"These were deliberate and intentional acts by the defendant towards the officers who were attempting to restrain him in what had become a very dangerous situation."
The court heard Mr Haughton pushed PC Thomas Harding to the ground and straddled him while bringing the knife down on his shield.
One of the strikes was so hard that it went through the shield and penetrated eight inches into the officer's abdomen, perforating his bowel, Mr Brown said.
Another officer was left with a knife wound that cut through his cheek into his mouth, narrowly missing his eye, and a third suffered two very deep knife wounds to the leg. Others sustained minor injuries.
Mr Brown said the defendant was in a "disturbed state of mind at the time" and was subsequently diagnosed with paranoid schizophrenia.
The trial continues.