British food industry seeks new blood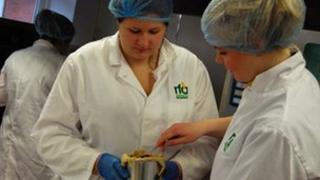 As the UK economy struggles to grow, one sector could provide a huge boost and is crying out for new blood.
Food and drink producers represent the largest manufacturing sector in the UK, according to the Department for Environment, Food and Rural Affairs (Defra).
The Sector Skills Council for the food industry has said 104,000 new entrants are needed 2007-2017, almost half of them graduates.
Within farming, the National Farmers Union (NFU) said 60,000 more people were required within the industry.
Harper Adams University College (HAUC) in Shropshire believes it can help provide the next generation of both farmers and food producers.
HAUC principal Dr David Llewellyn said: "We're trying to keep the connections with industry going. We know what sort of graduates they want, we can produce those people and we get them quickly into jobs after they graduate."
In 2010-11, 98.3% of all Harper Adams graduates found work within six months of leaving the college, many of them within the food industry.
Youth unemployment
The figures put HAUC in the top three higher education institutions in the country for employability, according to the Higher Education Statistics Agency (HESA).
With one million young people unemployed in the UK, why are so few being tempted to train in agriculture or food production?
According to Ucas, in June this year there were fewer than 4,000 applications for agriculture-related degree courses across the country.
Some students at HAUC said farming had traditionally been seen as a closed shop to people without a family background in it, while other areas of food production were rarely seen as a career at school.
Matt Stubbings, 21, who is studying Agri-food Marketing and Business, blamed schools for failing to encourage pupils to consider the industry.
He said: "I've always had a deep passion for agriculture, but I come from a town originally. I worked on farms, had friends who were young farmers."
The country's first Rural Enterprise Academy, opened by South Staffordshire College near Penkridge in September, plans to address that balance.
The NFU hopes it will also help plug a desperate skills gap.
Attracting praise from the prime minister, who said it gave children "the best possible start in life", the academy teaches rural and agricultural courses alongside mainstream subjects to students from the age of 14.
Principal Lorrain Makin said: "Our aim is to create a mix of academic achievement and practical life-skills that will make the Rural Enterprise Academy graduates sought after in the world of work."
New university
At degree level, HAUC is one of an increasing number of specialist agro-food colleges.
It was also one of two agricultural colleges among 10 institutions set to progress to full university status, in a list announced by government on Tuesday.
Dr Llewellyn said the news represented not only recognition for the college itself, but for the industry as a whole.
"We're trying to make sure the industry understands the fact it now has a university of very high quality dealing with the science end of food production," he said.
Dr Llewellyn said a large part of its success was also down to the year spent in industry, which the overwhelming majority of its 2,000 students are asked to complete.
The links with industry also extend to sponsorship of facilities and research at Harper Adams, with much of its work feeding back into industry techniques, including increasing productivity and managing herds.
Much has changed in farming since the college was established in 1901, but the need for farmers remains high, especially those equipped with good business and technology skills, the NFU said.