EDL leader Stephen Lennon charged with mortgage fraud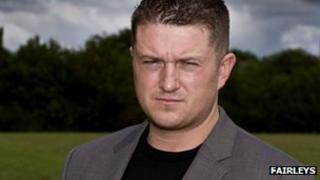 The leader of the far-right protest movement the English Defence League has been charged with mortgage fraud.
Stephen Lennon, 30, is accused of three counts of conspiracy to commit fraud by false representation in relation to a mortgage application.
Mr Lennon is due before St Albans Magistrates Court on 7 December.
He will appear with five others, from Luton, Silsoe in Bedfordshire and Watford, who were arrested as part of the same investigation.
They face charges including fraud, money-laundering and possession of drugs with intent to supply.