River Thames in Surrey 'continuing to rise'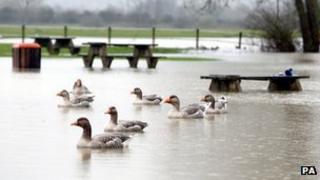 Residents living near the River Thames are being warned that water levels will continue to slowly rise over the next two days despite decreasing rainfall.
The Environment Agency said although the weather was predicted to be dry and cold, the river would still respond to the heavy rain of the past week.
A flood warning remains at Sunbury in Surrey, and there is a flood alert from Shepperton to West and East Molesey.
Flood risk manager Peter Quarmby urged residents not to become complacent.