Price rises for South East rail commuters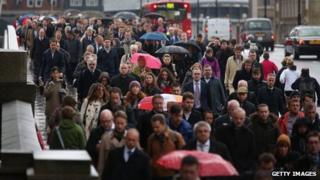 Commuters in the South East, who already pay some of the highest rail fares in the country, are to bear the brunt of the annual fare rises in January.
Many will see their fares rise by close to the capped national average of 4.2%.
But, other season ticket holders will face inflation busting increases.
Commuters from Ramsgate, Dover Priory and Deal to London will see their season tickets go up 6.46% to £4,940 on 2 January.
Those travelling from Folkestone also face a steep increase of 5.98% to £4,888.
And, those travelling daily from Tonbridge to London will have to find an extra 5.2% bringing their season ticket to £ £3,796 from January.
Sussex commuters fare slightly better with increases marginally below the 4.2% cap.
Those buying a season ticket from Hove to London (Victoria) will see the cost rise by 4.1% to £3,860 .
Eastbourne to London (Victoria) will increase by the same amount bringing a season ticket to £4,228.
Some commuters will wonder how the train companies can get away with increasing fares above the 4.2% cap.
It is because train companies are able to increase some season tickets above the cap as long as the average increase on their trains is no more than 4.2%.
'Already high fares'
Passenger Focus has criticised the steep rises.
The chief executive, Anthony Smith, said: "After years of above-inflation fare rises, fresh increases are piling pressure on already high fares."
He has called for the government and the rail industry to work together to deliver on the promise to get fare rises in line with inflation.
Southeastern, which runs many of the services from Kent to London, said: "It is the government, not train companies, that decides how much season tickets should rise on average each year. Successive governments have instructed train companies every year to increase these regulated fares on average by more than inflation.
"In doing so, ministers have been seeking to cut the contribution from taxpayers towards the running costs of the railway and increase the share that comes from passengers."
But, the rail minister and Liberal Democrat MP for Lewes. Norman Baker has defended the increases.
He said the coalition government has taken pro-active steps to cut the planned fare rises from 3% to 1% above inflation until 2014.
He said that action will put an average of £45 per year back into the pockets of over a quarter of a million annual season ticket holders.
He also said some commuter could find that they are £100 better off after the changes.
His Coalition colleague, the Conservative MP for Tunbridge Wells Greg Clark, says he believes passengers will feel "huge relief" because increases could have been steeper.
I'm not sure relief is what many commuters from the South East will be feeling when, yet again, they face an expensive return to work in January.