Jamie Heaton blast death: Neighbour admits manslaughter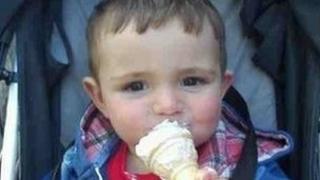 A man has admitted causing the death of a toddler and the destruction of eight homes in a gas explosion in Greater Manchester.
Two-year-old Jamie Heaton died as he watched TV at his home in Buckley Street, Shaw, which crumbled in the blast on 26 June.
Next-door neighbour Andrew Partington, 27, pleaded guilty to manslaughter via videolink at Manchester Crown Court.
He also admitted causing £1.2m of damage to homes.
Judge Andrew Gilbart QC told Partington there was only one possible sentence for such offences - jail.
He was remanded in custody until 11 February, when he will appear in court again to be sentenced after the preparation of psychological assessments.
Partington, an unemployed father of six, suffered 40% burns and a broken back in the blast.
Jamie's mother, Michelle Heaton, was also at home but survived as she had gone into the back yard to hang out her washing.
After the blast, which resulted in the evacuation of 175 homes, she and neighbours frantically tried to save the toddler.
Mrs Heaton and husband Kenny, who described their son as a loving little boy, were in court to hear Mr Partington's pleas.