Patient records stored in doctors' car boots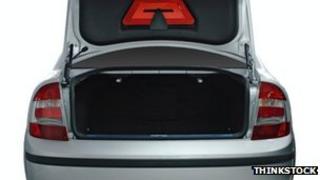 Private patient medical records have been stored in the boots of doctors' cars because of a lack of space in some hospitals in north-west England.
Patients have also had appointments cancelled because of missing notes, the University Hospitals of Morecambe Bay Foundation Trust admitted.
The trust, which runs the Royal Lancaster Infirmary, said it had run out of space at that hospital.
Chief executive Jackie Daniel said the situation was "unacceptable".
Hospitals are obliged to keep patient records for a number of years. The Morecambe Trust said it had to store more than one million records and had started to run out of space as long ago as 1994.
Peter Birchall, of patients' rights group South Lakes Health Action, said the situation had been a "shambles" a few months ago but was now back on track.
Ms Daniel said the trust had recently created new storage space for 75,000 patient records at Royal Lancaster Infirmary.
'Completely unacceptable'
She said: "While they are only isolated cases, the reports of records being in staff members' cars are completely unacceptable.
"We will not tolerate this lack of respect and responsibility for our patients' personal private data.
"This trust has the aim of meeting national best practice as a minimum, and raising the bar in terms of acceptable standards for our patients applies to back office functions as well as front-line services.
"The medical records department has been making good progress lately, however much more needs to be done.
"The trust board is to consider proposals on the next stage of its development to deliver a first-class records system for patients."
The trust also runs Queen Victoria Hospital in Morecambe and Furness General Hospital and Westmorland Hospital General in Kendal, Cumbria.