Katrice Lee's family in Downing Street 'justice' march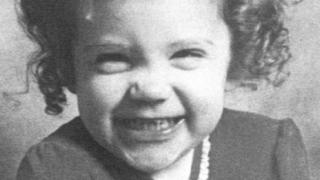 The family of a two-year-old girl who disappeared from a British military base 31 years ago are marching to Downing Street to "get justice".
Katrice Lee disappeared from a shop in Paderborn, the German military base where her father Richard, from Hartlepool, was stationed.
The family are taking part in a march to try to get the 1981 case files released for an independent review.
Katrice's sister Natasha said it was an "emotional day" for the family.
Mrs Lee, who lives in Gosport, Hampshire, some friends and family and people from Mr Lee's old regiment are taking part in the march later.
'Constant battle'
They will walk from St James's Park on Horse Guards Road in London to Downing Street wearing either missing poster or justice for Katrice T-shirts.
Mrs Lee said: "I'm quite emotional today.
"It's extremely difficult. It's a constant battle, it's emotionally draining and it's physically draining.
"I still have to go to work and perform my normal day-to-day things and the whole time, trying to think of new ways and ideas to come up with to keep the media a little bit interested in what we're doing to try and find Katrice.
"It's about trying to get justice for my sister and finding where she is.
"Hopefully by us marching to Downing Street, it might make David Cameron meet us."
Mrs Lee believes Katrice is still alive and was abducted.
'No trace'
The family maintain the Royal Military Police failed to interview key witnesses quickly enough after the disappearance.
John Sinnet, a close friend and neighbour of the family at the time, spoke of his memories of the search for Katrice.
He said: "We looked under every bush, every shrub, all the way up the river... we found no trace of her anywhere.
"I would concur with Richie [Katrice's father], that whilst yes, they now appear to be undertaking a detailed investigation, it might be a little bit late in the day to be doing it.
"Although I hope that it does help, but it seems an awful long time to have left it without doing anything."
There is currently a re-investigation into Katrice's disappearance by the Royal Military Police.
Maj Clive Robins, from the Special investigations Branch, said his thoughts were with Natasha, her mother and father on "this difficult day".
He said: "Policing has evolved over 30 years and in fact, it has evolved over the last 12 years since the review was done in 2000, so I can give assurances that there will be no stone left unturned.
"I have told Sharon, Natasha and Richie on a number of occasions that my focus is and will continue to be, to try and ascertain what happened to Katrice on that tragic day."
He said if the the family were ever given access the original case files, it would not be until the re-investigation ended.