River Thames rises: Surrey and London flood warning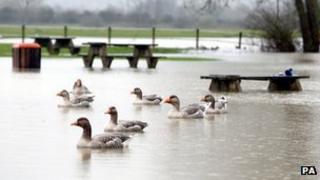 Water levels on the River Thames are expected to rise over the next few days and could cause flooding, the Environment Agency has warned.
Flood warnings are in place at Teddington and Hampton Court in west London, East Molesey, Walton, Chertsey, Shepperton and Sunbury in Surrey.
In a statement the agency said: "Property flooding can be expected for those properties closest to the river."
It is asking people to be vigilant and check the agency website for updates.
BBC Weather presenter Tomasz Schafernaker said: "Water levels are currently high on the Thames in the Sunbury area and may remain so in the coming days.
"The good news is that rainfall should be very hit and miss in the coming days across the South East, and Sunbury area itself may receive very little."
He added: "As overnight temperatures drop the wet ground is likely to become increasingly icy."