Nearly 50% of Kent children not attending 'good' school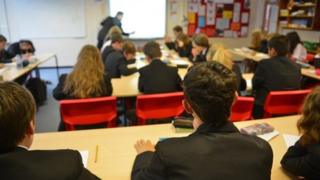 Almost half of primary children in Kent are not receiving a good or outstanding education - that's the finding of chief inspector Sir Michael Wilshaw's first Ofsted report.
He says England's children face a "postcode lottery" in gaining a decent education, with some having less than a 50% chance of attending a good school.
Here in the South East there are big discrepancies.
Kent and Medway are in the bottom 10 of the 152 local authorities in England for primary school performance.
In Kent, just 55% of junior schools are rated good or outstanding, which is Ofsted's marker for acceptable standards. In Medway the figure is slightly worse at 54%.
Both fare better at secondary level with 70% of students in Kent attending good or outstanding secondary schools and 78% in Medway.
In East Sussex, 70% of primary schools are rated good or outstanding, which puts them slightly above the national average. Also 78% of students attend good or outstanding secondary schools.
In a reversal of the situation in Kent, Brighton and Hove does well at primary school level, with 72% of pupils attending good or outstanding primary schools, but fare much worse at secondary level where that figure just reaches 60%.
Reading behind the statistics it's difficult to say exactly why some local authorities have done so badly. Ofsted says the local authority is not about naming and shaming but about trying to understand the discrepancies. It also says there is no link between access to a good primary school and how rich or poor an area is.
'Not acceptable'
As for Kent, it's not the first time the authority has found itself languishing near the bottom of the league table. In fact in May the council revealed that a fifth of schools were performing below the minimum standard for English and Maths.
Kent County Council's education spokesman Mike Whiting said the report didn't come as a surprise but he admitted that the situation was not acceptable.
He said they were focussing on training and innovation to improve teaching standards and the aim was for "85% of primary and secondary schools and 100% of special schools to be judged good or outstanding by Ofsted by 2015".
To help drive up standards Ofsted has appointed a new director for the South East - Lorna Fitzjohn.
She will take up the post in January and her job will be to try to tackle underperformance.
It's a big task. Ultimately her job will be to ensure every child in the South East has access to a good or outstanding education.