Rotherham by-election: Do independents have a prayer?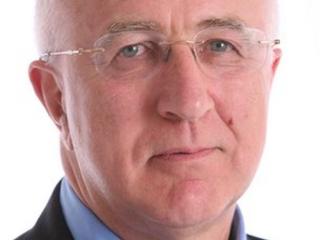 Without a party machine, usually self-funded and probably inexperienced at campaigning, most independents standing in parliamentary by-elections know they haven't got a prayer.
There is no way I could possibly say that about Simon Copley.
That's because he's an ordained clergyman who was so angered at the scandal of his local MP Denis MacShane wrongfully claiming expenses that he's putting himself forward as the "honesty candidate" to replace him.
The likeable clergyman is out to make a point but even he was surprised to find a national bookmakers giving him better odds for the South Yorkshire seat than either of the two candidates standing for the coalition parties.
"I don't usually bet but it might be worth a flutter," he told me.
It's unlikely the bookies are going to lose their shirts. Neither Conservatives nor Liberal Democrats have come anywhere near winning this seat in the eight decades it has returned a Labour MP. They came second and third in the 2010 general election but they were a very long way behind.
Labour inherits a 10,000 majority, but is still taking no chances.
High-profile candidates
The party's national executive engineered what it called a "clean break candidate". It refused to shortlist a local Labour councillor and provoked an unprecedented walkout by supporters of a local Rotherham councillor who had been seen as the favourite to become the candidate.
That embarrassing split lasted just a few hours, with the rebels now saying they've made their point and are out supporting Sarah Champion who has made her name in the town as chief executive of a local children's hospice.
Even so, Labour is pouring in support with no fewer than eight MPs turning up for a single campaigning event - including all three winners from by-elections held just 48 hours earlier in Manchester, Corby and Cardiff.
UKIP and Respect are also fielding high-profile women as their candidates.
But Respect will still be relying heavily on its winner from the Bradford West by-election earlier this year. Former Fleet Street journalist Yvonne Ridley, who has stood for the party in the past, will be described on the ballot paper as the Respect (George Galloway) candidate.
UKIP has chosen its regional organiser Jane Collins as candidate. She hit the headlines in 2011 when she unexpectedly came second in a by-election in the neighbouring Labour stronghold of Barnsley. UKIP's vote across the country has been growing but the anti-EU party has yet to win anything in Yorkshire since its seat in the European Parliament in 2009.
The far-right BNP is fielding the candidate who took 10% of the vote in the 2010 general election against Denis MacShane. But anti-immigration candidate Marlene Guest is struggling under a double handicap.
A large chunk of her party's activists have defected to the English Democrats over the past few months and, of those that remain, not a single one would agree to be filmed pushing pamphlets through letterboxes.
The rest of this long field is made up of the English Democrats, a Trade Union Socialist, another independent and someone calling himself Clint Bristow, who has not described himself as anything on the official nomination papers.
He's Brian Bristow, the South Yorkshire organiser of the far right campaign group the EDL.