Flood defences: Learning the lessons of 2007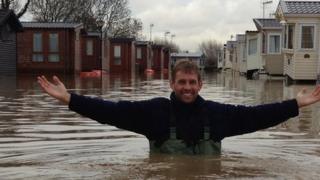 After the floods of July 2007, those affected were desperate to avoid seeing such devastation again.
Since then national and local government and the Environment Agency have spent millions of pounds on new flood defences
Other solutions have included privately funded defences and houses which have been designed to be flood proof.
For example, the owner of a caravan site in Warwickshire decided to take action to protect his business from the kind of damage it suffered five years ago.
Stratford-upon-Avon Riverside Caravan Park lost more than 350 of the 600 caravans on the site in the 2007 floods.
Owner Nic Allen said the resulting insurance claims ran to more than £17m.
And he said he realised he could lose his business if he was refused further insurance.
His answer was to provide every caravan with a floatation system, which cost him £3,000 per unit.
'Every faith in them'
But his investment seems to have paid off as during the latest floods only one caravan on the site was damaged.
The platforms were made by Marche Industries in Ford, near Shrewsbury, which says it turns caravans "into a boat" using polystyrene blocks.
Mr Allen said he had to wade home after the latest floods, "but at least my home was dry".
But the Worcestershire village of Kempsey was not so lucky, despite its new £1.5m defences.
The pumps failed and about 30 houses in the village were evacuated early on Sunday.
Resident Michael Gill said the water rose "much quicker than in the floods of 2007".
"The pumps failed on this occasion and made the flood risk much worse and six or seven houses have been very badly damaged," he added.
Elsewhere there has been praise for the post-2007 defences.
Worcester resident Lesley Bond, 64, said she used to be "a nervous wreck" every time water levels in the nearby River Severn began to rise.
In July 2007 she and her husband had to be rescued by boat when flood water filled their house in Hylton Road.
They have twice spent Christmas in rented accommodation after being flooded.
After the 2007 floods the Environment Agency built a 600m (650yds) long embankment along Hylton Road at a cost of £1m to protect 13 properties.
During the recent floods water from the drains still closed the road, but the homes have been kept safe.
"I've got every faith in [the embankment] - it's made of clay and the water just can't get through," said Mrs Bond.
People living in 12 riverside houses in Evesham have each paid £12,000 for private flood defences.
Guy Stevenson, who owns one of the houses on Waterside, said: "It is a large amount of investment but it puts everyone's minds at rest - there has to be a massive amount of water before it comes over."
He said it "would have been nice" if the council had paid for the flood defences, but accepted that "sometimes if you live by the river you have to accept these things".
When the flooding in Evesham was at its worst an officer from the Environment Agency tweeted a photo of some riverside flats commenting "these places [are] well designed."
David Sermon, who lives in the flats on Monks Walk, said: "We've never been flooded inside this house since it was built 23 years ago, even in 2007 when all you could see was the top of the bandstand."
The main living accommodation is 5m (15ft) above the normal river level.
Mr Sermon said the architect was so confident the flats would not be affected by flood water that he moved his mother into one of them when they opened.