Landslip disrupts Sussex and Surrey train services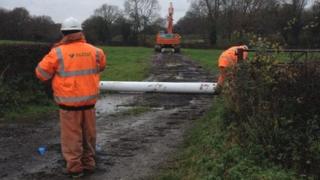 Trains between West Sussex, Surrey and London are being disrupted after a landslip blocked one of the lines.
Southern services are not able to use one of the two tracks on part of the route between Horsham and Dorking.
Network Rail is building a road to get teams to the landslide between Dorking and Holmswood and said repairs could take "up to three weeks".
Peak services have been cancelled by Southern and the company is operating a revised timetable.
Southern said the landslide was caused by the wet weather which caused ballast to move from around and under the track, making it unstable.
In a statement, the company said: "Network Rail is working hard to repair the damage, which could take up to three weeks owing to the extent of the damage and the rural location."
Dave Walker, Southern's head of train planning, said: "Services are being thinned while we operate on one track. However, there is a rail replacement bus service running to supplement the loss of services."
Network Rail said the 18mm of rain which fell on Sunday washed away clay from under the sleepers.
The company said it would take about a week to construct the road to the site of the landslip.