England flood warnings continue to increase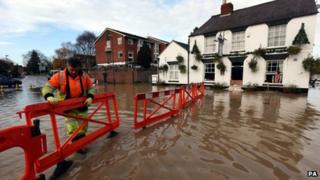 Flood warnings are in place across England as severe weather problems move north.
By Monday evening the Environment Agency had issued 184 flood warnings, the majority in the Midlands, as well as more than 260 flood alerts.
Warwickshire fire crews used an inflatable sled to rescue people from a car trapped in flood water in Bedworth.
A major operation to save a hospital in North Yorkshire from being flooded has now been scaled down.
Trapped mother
High volume pumps were deployed at the Friarage Hospital in Northallerton, as a nearby beck threatened it.
However, after being forced to cancel elective surgery, hospital bosses said normal services would resume on Tuesday.
Peter Hudson, from North Yorkshire Fire and Rescue Service, said: "We think we have cracked it now and we've left one pump at the location to just ensure we remain on top of it."
The storms have caused devastation across large swathes of the country.
A woman and her three-year-old child were rescued from their car in Woodley, in Berkshire, after it became stuck in flood water.
In Newcastle, Exhibition Park was sealed off after it was flooded and the Newburn area of the city, which saw a block of flats demolished following floods in September, was hit again.
Some residents in villages in the Tewkesbury area of Gloucestershire who were cut off by flood water were given the option of being taken to safer areas but the fire service said most were choosing to stay at home.
Nottinghamshire County Council moved 25 residents at Hazelford Ferry Care Home in Bleasby to alternative care homes because of the high risk of flooding in the area.
Rail disruption
Homes in Sturminster Marshall, Dorset, were protected by a flood barrier around the village.
Resident Holly White said: "The road has turned to a river and the village green is a lake.
"Our main concern would be if the flood barrier doesn't hold - we don't need any more rain."
The Association of Train Operating Companies said 20% of trains were delayed because of the weather across Britain.
John Baker, from Network Rail, said it could be mid-week before services improved.
He said: "We are struggling to get routes back up and running."
Residents of Kempsey, Worcestershire, had hoped a £1.5m scheme would protect their homes, but it broke down due to an electrical problem.
During a visit to the Cowley Bridge area of Devon, Owen Paterson, Secretary of State for Environment offered his sympathies to those caught up in the flooding, while praising the emergency services for their "tremendous unison" over the past few days.
He said: "We have had some real tragedies over the past few days and, honestly, these are avoidable if people would pay real attention to the information we are giving out."
In developments around England:
A number of roads in County Durham, Teesside, North Yorkshire, Gloucestershire and Derbyshire remain closed
Horse racing has been cancelled at Southwell in Nottinghamshire and Wetherby, in West Yorkshire
Animals including Chihuahuas were rescued by boat from a flooded farm and house at Pidsbury in Somerset
Motorists were urged to stop driving through flood water on a Worcestershire bridge and flood barriers are up on Worcester's Hylton Road
People who had to leave their homes at Billing Aquadrome in Northamptonshire last Thursday are still in temporary accommodation
Some schools were closed in the West Midlands, Worcestershire, Leicestershire and Devon
In Staffordshire, fire crews were called to the Rugeley bypass, where the river burst its bank and 20 sheep were stuck in flood water
In other parts of England, residents were beginning to clean up their homes, including in Cornwall where more than 100 properties were flooded.
Forecasters have warned the rain is likely to remain until Tuesday night.
The Environment Agency predicted river levels would swell overnight, with the River Severn at Tewkesbury being of particular concern.
The river is expected to peak at 4.8m (16ft) - a metre less than the 2007 peak - overnight or early on Tuesday morning.
The agency has warned that 170 houses in Oundle, in Northamptonshire, could be in danger of flooding early on Tuesday.
The enhanced content on this page requires Javascript and Flash Player 9
Map Key
Land
Cloud
Lakes, Rivers & Sea
Fog
Light
Heavy
Frost
Light
Heavy
Pressure Fronts
Cold
Warm
Occluded
Rain
Light
Heavy
Extreme
Snow
Light
Heavy
Temperature tab only
Temperature (°C)
More details from BBC Weather