Flood defences: Praise and criticism of new schemes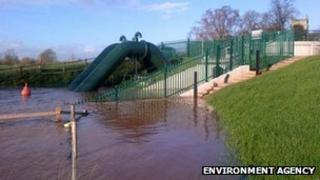 Residents of Kempsey, Worcestershire have criticised the village's new flood defences saying it made the flooding worse than in 2007.
Dan Corns said: "More than £1m was spent on [the defences] and somebody's got to take responsibility."
But the environment minister Richard Benyon said new systems had helped protect 20,000 homes in the UK.
He said the government will be spending £2.17bn "which will see more flood schemes going ahead".
The Environment Agency (EA) confirmed that the pumps at Kempsey had failed at about 05:00 GMT on Sunday morning.
It said an engineer would be stationed at the pumps overnight to manually activate the system, in case it fails again.
'Unprecedented' flood levels
Mr Corns added: "It is unacceptable the pumps failed - the Environment Agency has been very good to us but we should not be building in these areas [where flooding is likely]."
The £1.5m Kempsey project, which took almost 12 months to complete, involved the building of a 180m (590 ft) earth embankment to protect the village from the River Severn.
Pumps, working in tandem with sluice gates, were designed to allow the Hatfield brook, which runs through the village, to join the river during floods.
About 30 houses in the village were evacuated in the early hours of Sunday morning after heavy rain led to flooding.
Councillor David Harrison said Kempsey had been badly hit and the situation made worse when water pumps failed.
The EA said flood defences at Polperro in Cornwall were "overtopped" by "unprecedented" levels of floodwater.
A spokesman said the river went from being below flood alert levels to a severe flood warning in the space of two hours.
More flood schemes
Alan Crockford, a pub landlord in the village, said there had been warnings but "nobody knew it would get this bad".
He said: "I was actually in my house and I heard a roar, and just looked outside the window and that was the first bit of water that just, just came down the hill, like a river running straight down the road.
"We were given warnings from Floodline, and they just said, like, to take care; we were never given any firm warning that you had to evacuate and no-one knew to expect it this bad."
Mr Benyon, who was visiting Malmesbury in Wiltshire which was also affected by heavy floods, said the defences built there in the 1980s "have protected more homes from being flooded".
He said the government is committed to building more flood defences.
"We are spending £2.17bn, but we're spending it better, we are gearing in other sources of funding, £72m this year, much more next year, which will see more flood schemes going ahead," he added.
The EA website lists more than 70 flood protection schemes it has been involved in across England and Wales.
Up to 71,000 properties were being protected by flood defences in England and Wales at 13:00 GMT, the agency estimated.
The EA said they have put up temporary flood barriers at Beales corner, Bewdley in Worcestershire where the River Severn is rising and rain is expected overnight.
Temporary flood barriers are on their way to Hylton Road in Worcester and will be put up overnight, the agency said
The road has been closed by flood water, despite new defences being built to protect it after the July 2007 flooding.
The EA said they will also be putting up flood barriers at Frankwell, Shrewsbury, overnight due to a forecast of heavy rain for Wales which it said may raise river levels.