Woman in tent killed in Exeter tree fall as floods hit county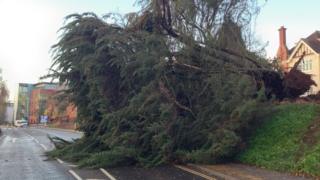 A woman in a tent has been killed by a falling tree as heavy rain swept across Devon.
The large spruce came down late on Saturday night in Western Way, Exeter, trapping the 21-year-old woman and injuring two other people.
Devon and Cornwall Police said it was thought she could have been homeless.
The force said that across the two counties 250 homes had been flooded, including 30 properties in the village of Kennford, near Exeter.
Devon and Somerset Fire and Rescue Service said it had dealt with more than 500 flooding incidents during Saturday and on Sunday morning, and more than 1,200 in the past five days.
The Met Office has said further heavy rain is expected throughout Sunday across the region.
'Tragic incident'
Insp Andy Oliver said about the woman who died: "All we know is that she was in a sleeping bag in a tent underneath the tree when it came down."
Insp Gareth Twigg said there were a number of rough sleepers staying in tents around the city.
He added that there was a patch of grass under the tree where the woman could have been camping.
Emergency services managed to free her following the tree fall at about 23:50 GMT. The woman died later in hospital.
Two men, who are aged 27 and 35, were also in the tent and were injured in the fall.
A police spokesman said: "This is a tragic incident and our thoughts are with the deceased's family and friends."
In Exmouth, roads in and out of the town were closed and rail services were disrupted.
Firefighters were called to Kennford as some people decided to leave their homes when the River Kenn burst its banks.
Some residents had prepared for the worst by moving items upstairs. But many said levels rose very quickly and water was up to waist height in the street by Saturday evening.
Les Seaton, who lives in the village, said: "The water came up so quick we couldn't do anything, we just had to let it come in the front and back door."
In Plymouth, there was flooding in Colebrook and Gdynia Way.
The rain has also had an impact on rail services, with buses replacing Cross Country services between Exeter and Bristol. Diversions are in place between Exeter and Yeovil.
Dan Paines, from First Great Western, warned passengers who were intending to travel from the South West to London on Sunday or Monday morning not to try.
Mr Paines said he expected the line between Tiverton and Exeter to remain closed until early in the week.