Forecast warns of more heavy rain in Devon and Cornwall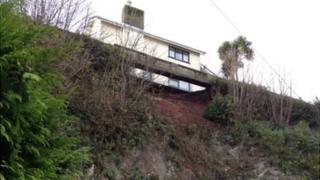 As Devon and Cornwall continue to clean up after Thursday's heavy rain and strong winds, forecasters are warning more bad weather is on the way.
Emergency services returned to the Grand Western Canal near Tiverton on Friday evening to pump out more water.
Police also confirmed a farmer has moved his animals out of fields situated near the canal.
Four properties have been left at risk after tonnes of earth slid down a hill at Warren Road in Torquay, Devon.
BBC Spotlight's weather man David Braine said: "We've had as much as 40 mm of rain in the last 24 hours or so.
"It has been drier today but tomorrow we could have as much rain again. That of course is going to cause further flooding."
Canal breach fears
The Met Office in Exeter has issued a warning of further heavy rain which will last for most of Saturday. It is not likely to ease until later in the night.
After a drier day on Sunday, more rain is expected in the region later that evening.
On Friday evening 10 appliances were pumping water from the Grand Western canal because it was believed a further section of the canal wall could be breached.
In Exeter, 10 elderly people were moved away from their homes after a 20ft (6m) wall collapsed on Thursday evening in Hele Road as a result of the weather.
Peverel Retirement, which operates the flats, said a structural engineer and loss adjustor was still assessing the situation late on Friday.
Residents have been moved to hotels nearby. Hele Road reopened on Friday afternoon.
The Environment Agency has issued 45 flood warnings and 59 flood alerts across the region.
BBC Travel said train services remained disrupted due to damaged tracks.
Three private homes at the bottom of the hill in Torquay were evacuated because they were in a "vulnerable position", while a fourth affected private property - on top of the hill - was empty, Torbay Council said.
The council said: "There is still the possibility that more debris could come down and the council has been working closely with the building owners concerned, and a demolition contractor will start work this evening."
Affected residents were being moved to temporary accommodation, it added.
Staff at Cornwall's Wild Futures' Monkey Sanctuary, near Looe, spent Friday cleaning up the attraction after flooding caused "significant damage" to buildings including offices and public toilets.
A tree was also being removed after the weather resulted in it threatening to collapse on to a Barbary macaque enclosure, managers said.
The animals were moved to a safe enclosure.
First Great Western said trains in the region could be disrupted over the weekend due to 12 areas of "impassable" track between Devon and Somerset.
Network Rail said services to London Waterloo were not due to restart until Monday.
Police in Plymouth said they were watching forecasts carefully and had plans in place to reopen a weather-related Silver Command room over weekend to deal with any emergencies if needed.
South Hams District Council said it had provided 1,400 sandbags to flood-hit communities in its area, using about 27 tonnes of sand.