West Country severe weather: Flood risk as heavy rain falls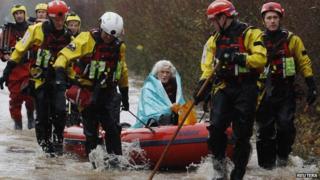 Significant flooding is likely as heavy rain is falling in Somerset, Bath and Bristol.
The Met Office said up to 30mm (1in) of rainfall was expected to fall on the already saturated ground.
It is predicted to last until the early hours of Sunday when it will start again from the evening onwards.
Heavy rainfall this week has seen one man die after his vehicle became submerged in water. Rail lines have been closed and roads blocked.
Flood warnings remain in place across Bristol and Somerset.
In Mulchelney, Langport, three people had to be rescued from a car stuck in flood water by Devon and Somerset Fire and Rescue Service, while a 90-year-old woman was rescued after being stranded in her flooded home in North Curry, near Taunton.
On Saturday morning, drivers on the M5 were warned of flood water on the southbound carriageway between Bristol and Portishead. The problem cleared in the afternoon.
The rain is still having an impact on the trains, with buses replacing Cross Country services between Bristol and Exeter and diversions in place between Bristol Parkway and Swindon.
'Outflow problem'
Over the past two days South Somerset District Council has been clearing ditches and has delivered more than 4,500 sandbags to affected areas while North Somerset Council has distributed 500.
Les Callard, who was placing sandbags to protect his property in Langport from flooding, said: "You're never going to stop it, it's just damage limitation really.
"I'm not a weatherman but I know that that river [the River Parrett] is very high and it won't take a lot for it to come over and then that's it, we'll all be knee deep in it.
"We're on the [Somerset] Levels and it happens sometimes. It's not a major thing but it's certainly not good."
North Somerset councillor Elfan Ap Rees said staff would be at the council's contact centre until 21:00 GMT if people had flood issues.
"Our staff and resources are focused on key vulnerable areas like Summer Lane in Weston-super-Mare where we've already deployed flood barriers," he added.
The Environment Agency said 125 properties had flooded in the South West.
It has been monitoring river levels, calculating which areas could be most at risk; pumping out flood water and clearing blockages.
John Rowlands, from the agency, said: "When the heavy rain came it was surface water flooding and that's obviously dissipated and now we're seeing the bigger rivers reacting now - certainly on the lower levels and moors all of our rivers are absolutely full."
Conservative MP for North Somerset Dr Liam Fox said he was going to approach the Environment Agency to ask for more funding for Wrington to improve drainage in the area.
"There's a clear outflow problem which needs to be dealt with and we need to think of new ways of dealing with these problems," he said.
The enhanced content on this page requires Javascript and Flash Player 9
Map Key
Land
Cloud
Lakes, Rivers & Sea
Fog
Light
Heavy
Frost
Light
Heavy
Pressure Fronts
Cold
Warm
Occluded
Rain
Light
Heavy
Extreme
Snow
Light
Heavy
Temperature tab only
Temperature (°C)
More details from BBC Weather