Will Middlesbrough stay loyal to Labour in by-election?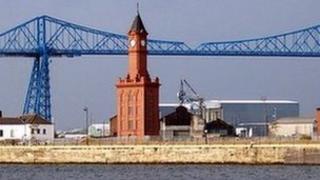 Like many parts of the North East, Middlesbrough has remained loyal to Labour through thick and thin.
Since the current parliamentary seat was reinstated in 1974, Labour has won every election with some degree of comfort.
They're certainly the strong favourites to win again in the by-election on 29 November.
But that does not mean there aren't issues for Labour to face up to in the town.
Massive majority
A study of recent voting figures makes worrying reading for the party.
In 1997, Labour won 70% of votes in the town, piling up a massive 25,000 majority.
The decline since then has been marked, and in 2010, that vote had fallen to 45% and the majority to 8,700.
That's the lowest Labour majority in 40 years, thinner even than Labour's horror election of 1983. In all 17,000 voters have drifted away from Labour in 13 years.
Some of that may mirror national trends, but the party has also been accused of complacency.
The by-election has been caused by the death of sitting MP Sir Stuart Bell.
Although plenty of people have paid tribute to his work in the town, it's fair to say he copped a fair bit of flak in his final years.
At one point, some were even asking if he was Britain's laziest MP.
Sir Stuart strongly denied that accusation, but I understand it has been an issue that has come up on the doorsteps.
'Something different'
And the opposition parties are keen to capitalise on those sentiments.
The Liberal Democrat candidate George Selmer believes the town has fallen out of love with Labour.
He said: "Most of the people I speak to on the doorstep are crying out for something different.
"They are not sure what that is because I feel what the town has actually lacked is a credible challenger who will hold the Labour party to account. Now I'm offering that in this election."
Conservative Ben Houchen is also picking up on hostility to Labour.
He said: "The primary question I'm asking is what has Labour done for Middlesbrough because in my opinion there has been little or no investment in the area.
"They turn up at the election, and then disappear for five years, then turn up again and think they can win. I am here to say that does not have to be the case. Middlesbrough can do better."
There is a problem though for both the Conservatives and Lib Dems.
Middlesbrough has been hit hard by spending cuts. The council is currently consulting on 111 cuts worth £11m affecting everything from libraries to the town centre CCTV system.
The town's mayor Ray Mallon has blamed the coalition parties - and Labour says there are plenty of voters who agree.
There is another threat though - newer challengers like UKIP and the BNP.
UKIP candidate Richard Elvin said: "The North East has always been such a strong Labour area that for political reasons people can't bring themselves to vote Conservative.
"But a lot of people are beginning to realise that UKIP represents the interests of the ordinary working person better than New Labour."
And the BNP's Peter Foreman said: "There's nothing in parliament that's going to fight on behalf of these people. They do not care, all they care about is big business, not building factories and making stuff again."
Safe territory
Labour is facing plenty of hostile fire then. But the party believes the impact of coalition policies on Middlesbrough are a bigger issue for voters.
When I joined their candidate Andy McDonald he was knocking on doors.
As he was canvassing the street in Middlesbrough where he was born, it was probably safe territory.
But one woman told him that even if he hanged the people of the estate, she'd always vote Labour.
And it does seem likely that Middlesbrough will return another Labour MP next week.
But Andy McDonald says he is not taking that for granted.
He said: "What I am telling people on the doorstep is that I'm absolutely committed to open an office in Middlesbrough, I will have surgeries, and I will be totally accessible.
"An MP and a party should work hard to serve the people who elect them and I will never take that for granted.
"But the message I am getting from people is that they are suffering under this Tory-led government."
Low turnout
There is one other danger for Labour though - the potential for low turnout.
Middlesbrough's turnout has hovered around the 50% mark at the last two general elections.
With turnout dipping as low as 18% in recent by-elections, the likelihood is that it'll also be low in Middlesbrough.
There are plenty of distractions at this time of year - and actually the most prominent campaign in the town seems to be for its X Factor hopeful James Arthur.
Even if Labour wins in the town, it will have to work hard to convince people that an MP can make a difference to their lives.
The full list of candidates standing in Middlesbrough is:
Richard Elvin, UKIP
Peter Foreman, BNP
Mark Heslehurst, Independent
Ben Houchen, Conservative
Imdad Hussain, The Peace Party
John Malcolm, Trade Unionist and Socialist Coalition
Andy McDonald, Labour
George Selmer, Liberal Democrat