Flagship libraries open as branches close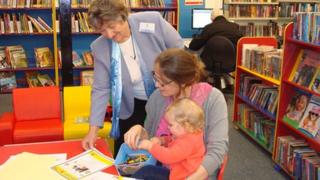 Retired civil servant Vera Wall loves her new role helping to run a branch library in Surrey one afternoon a week.
She is among 70 people who signed up as volunteers to keep the library in New Haw open when the county council said it would no longer staff it, prompting fears of closure.
It is one example of the changes being made to libraries in England by local authorities across the political spectrum.
New Haw's trained volunteers lend books, run children's story sessions, advise computer users and take responsibility for the building through a charitable trust.
Sabrina Atkins, a regular visitor with her toddler daughter, said she has hardly noticed any difference since volunteers took over from the council on 1 October.
"The layout has changed a bit but it's pretty much the same otherwise," she said.
It was not all plain sailing. The enthusiasm of the volunteers was more than matched by the efforts of protesters to prevent the handover, with the argument getting as far as a judicial review in the High Court.
Shut branches
Conservative-led Surrey was also accused by the Lib Dem opposition of making its changes for the sake of "political dogma" after admitting there would be no cost savings.
But Labour-run councils are also making big changes. In Liverpool, the city council has closed four branch libraries and reduced opening hours at others to save £2.2m.
In Newcastle, another Labour-run city, the council wants to shut 10 of its 18 branches as part of plans to save £7m.
Yet both cities have spent many millions on their flagship city centre libraries.
Newcastle's £24m "super library" opened three years ago. Liverpool's central library has undergone a £50m rebuild.
Liverpool children's author Alan Gibbons, a rigorous campaigner against reductions in library services, said there was a pattern of expenditure on large libraries while smaller branches closed.
"Even though libraries have been very badly served, there are still 320 million visits a year, with 300 million items borrowed," said Mr Gibbons.
"If you close branch libraries the two groups disproportionately affected, because they are least likely to have their own transport, are the young and the elderly.
"China is spending billions on building village libraries. They are recognising the importance of literacy and we are allowing ours to wither.
"It is an indication that something is not quite right."
Mobile libraries
He said he wished the volunteers taking over libraries across England well.
"It is better to have a library than not," he said. "But volunteers tend to be retired professionals and libraries where there are more of those people are more likely to survive than those in inner cities.
"The principle that we should have publicly funded, professionally run libraries remains."
Surrey is among many local authorities to cut its mobile library service.
Other councils have also turned libraries into community ventures or moved them to buildings shared with other local council or health services and police offices.
The Chartered Institute of Library and Information Professionals (CILIP) said it estimated 1,900 library staff jobs - about 10% - had been lost in England since March 2011.
Spokesman Mark Taylor said that, although closure of library buildings received a lot of attention, the long-term trend was of a "hollowing-out" of services.
"The picture we have seen emerging is reductions in staff numbers, opening hours and expenditure," he said.
"More and more local people are experiencing libraries being delivered in different ways and different locations. There is no one answer.
"For example, the new library at Canada Water in Southwark is part of a large mixed cultural centre with a theatre.
"When a national service is unpicked and starts being delivered in a new way it becomes complicated.
"When is a library a library? Is a community managed service a public library?
"It is interesting but complex."