New social impact bonds launched in London and Essex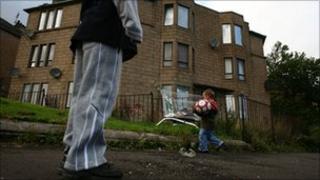 The government has announced two social projects in London and Essex being funded by private investors as part of a scheme to cut demands on the state.
Social impact bonds cover upfront costs and give a return to investors if initiatives are a success.
The London project aims to help about 800 rough sleepers and the one in Essex about 380 young people at risk of entering care.
Labour has questioned what indicators will be used to judge success.
Critics have also questioned what criteria will be applied to financial backers.
Prime Minister David Cameron said: "By providing new forms of finance to invest in more early intervention programmes we can help the most vulnerable and reduce demands on the state."
'Persistent problem'
London Mayor Boris Johnson and charities St Mungo's and ThamesReach have developed a project to help around 800 rough sleepers in the city.
Mr Johnson said he was determined to halt the persistent problem of rough sleeping in London.
He said: "While we have made great strides in cutting the number of entrenched rough sleepers there is still much more to do.
"This complex issue requires innovative solutions, and our social impact bond is a good opportunity to encourage philanthropists and the private sector to help deliver a vital public service."
In Essex a social impact bond is backing a five-year programme to give intensive support to around 380 young people at risk of entering care.
More than £3m was raised from social investors, including Big Society Capital and Bridges Ventures, to fund the project.
They will receive a return of up to 12% a year if it is deemed a success.
Ministers also announced a £20 million fund to simplify the payment of bonds.
Social impact bonds were trialled last year in Westminster and Hammersmith and Fulham in London, and Birmingham and Leicestershire.