Footballer Rob Hughes attackers found guilty in Greece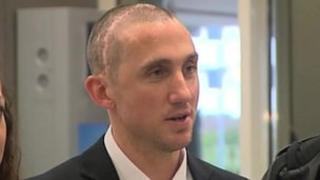 Four men have been found guilty in a Greek court of an attack on a former Oxford United player which left him with permanent brain damage.
Robert Hughes, 31, from Croydon, was left in a coma after the assault while he was on holiday in Crete in 2008.
Curtis Taylor, Daniel Bell, Sean Branton and Joseph Bruckland were all convicted of causing grievous bodily harm and given suspended jail terms.
Benjamin Herdman and George Hollands were cleared of the same charge.
Mr Hughes was hit with a bottle and left for dead outside a nightclub in Malia, the court in Heraklion heard.
When asked by the judge to turn to face the defendants and identify who was responsible, Mr Hughes looked down, shook his head and said: "I just can't do that".
Witness Neil Philippart pointed out Bruckland as the attacker when he gave evidence.
'Nightmare road'
Mr Hughes said: "They were young guys and they've made a mistake one night of doing something, from what I gather now, they regret actually doing.
"I don't feel any anger or anything towards those people at all. All I hope for now is that they live life in the right way.
"I would never want to think really horrible thoughts, it doesn't feel right to me."
He said he was happy to be alive.
"That's the most important thing… I can still live life, do the right things, enjoy myself and look after other people.
"I don't remember living my old life so the only life I know is the life I'm living now."
Mr Hughes's mother, Maggie, said: "It was a nightmare road that I wouldn't want anyone else to go on.
"It was a lot of pitfalls, loopholes and closed doors that we had to go through before we could get to this day.
"I'm very comfortable with what we've come away with. We came here to get a guilty verdict and we believe exactly what we got is justice."
Taylor, Bell and Branton, all from Horley, Surrey, and Bruckland, from Hookwood, Surrey, are appealing against the verdicts, meaning they are free to return to the UK.
Mr Herdman, of Worth, West Sussex, and Mr Hollands, of Reigate, Surrey, were cleared.