Homes evacuated after landslips in Devon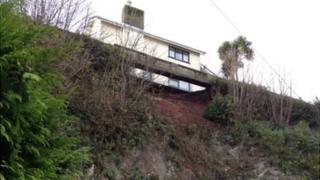 Heavy rain and strong winds in Devon and Cornwall have caused landslips in both counties.
Four properties have been left at risk after tonnes of earth slid down a hill at Warren Road in Torquay, Devon.
In Exeter, 10 elderly people spent the night away from their homes after a 20ft (6m) wall collapsed on Thursday evening as a result of the weather. There were no reports of injuries.
In Cornwall, there has been a landslide at Mevagissey Harbour.
The Environment Agency has issued 45 flood warnings and 59 flood alerts across the region.
BBC Travel said train services remained disrupted due to damaged tracks.
Three private homes at the bottom of the hill in Torquay were evacuated because they were in a "vulnerable position", while a fourth affected private property - on top of the hill - was empty, Torbay Council said.
The council said: "There is still the possibility that more debris could come down and the council has been working closely with the building owners concerned, and a demolition contractor will start work this evening."
Affected residents were being moved to temporary accommodation, it added.
Resident Nigel Paull said: "We've got a crane coming in this evening to hopefully try and stabilise a wall that is now hanging in mid-air.
"We'll just wait and see what happens."
In Exeter the wall, near St David's Hill, came down at 20:20 GMT on Thursday, close to a block of retirement flats.
Devon and Somerset Fire and Rescue Service said the wall collapse had dislodged hundreds of tonnes of rubble.
The flats' residents were evacuated amid fears more land could give way.
A sniffer dog was brought in to check no-one was trapped under the rubble.
Peverel Retirement, which operates the flats, said a structural engineer and loss adjustor were assessing the situation.
Resident Raymond Ravenscroft said he and other residents were waiting to find out where they would be spending Friday night.
He said: "When the experts have given advice, we shall know whether we can go back or whether we'll have to find somewhere else to lay our head for the time being."
In Mevagissey, the landslide occurred on the harbour's west quay.
The harbourmaster said it was hoped the material would be moved later in the day.
Staff at Cornwall's Wild Futures' Monkey Sanctuary, near Looe, are cleaning up the attraction after flooding caused "significant damage" to buildings including offices and public toilets.
A tree was also being removed after the weather resulted in it threatening to collapse on to a Barbary macaque enclosure, managers said.
The animals were moved to a safe enclosure.
Cornwall Council said it had received more than 200 calls on Thursday from residents alerting it to weather-related incidents.
Regional engineer Paul Allen said: "Half of those [calls] were probably trees down and half were due to flooding.
"It was right across the county this time, from Penzance right up to Bude and down to Torpoint - everybody got their fair share."
Devon and Cornwall Police has advised commuters that travelling to work on Friday was "expected to be OK" although there would be some patches of standing water in places.
First Great Western said trains in the region could be disrupted for the next two days due to 12 areas of "impassable" track between Devon and Somerset.
Network Rail said services to London Waterloo were not due to restart until Monday.
In Plymouth, engineers are surveying a major route into the city to find out if a sewer has collapsed or has a serious blockage.
Gdynia Way was closed on Wednesday and Thursday during heavy rain and flooding.
South West Water said it believed there was a problem with local pipes, as the weather alone should not have caused the extent of flooding seen.
Police in the city said they were watching forecasts carefully and had plans in place to reopen a weather-related Silver Command room over weekend to deal with any emergencies if needed.
South Hams District Council said it had provided 1,400 sandbags to flood-hit communities in its area, using about 27 tonnes of sand.