What next for the Bobby Roberts Super Circus?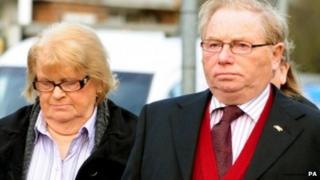 The circus is the lifeblood of the Roberts family.
Bobby Roberts, 69, was born into the business, which now involves his daughter and grandchildren.
Until last year, they had an established reputation and a loyal base of customers.
But then shocking footage emerged of abuse being inflicted one of their elephants, 58-year-old Anne.
The film showing the animal being beaten by a groom with a pitchfork while chained to the floor was seen around the world.
Roberts and his wife, 75-year-old Moira, from Oundle, Northamptonshire, denied causing unnecessary suffering and failing to prevent an employee from repeatedly beating an elephant.
Mrs Roberts was cleared of all offences at the Northampton Crown Court trial, while her husband was found guilty.
The couple say the mistreatment should never have happened and claim they were also disgusted at the footage which showed the Asian elephant chained by one foot and one hind leg in a barn at the Bobby Roberts Super Circus in Polebrook.
The video, filmed between 21 January and 15 February last year, also showed the elephant being kicked in the side and struck with a pitchfork several times.
Mr Roberts said the groom, who later ran off, was not following orders.
But after he was found guilty, the question facing the family and their Bobby Roberts Super Circus is what comes next?
The family claim the case has plunged them into turmoil.
They told BBC Inside Out they have been subjected to kidnap and shooting threats and have even sought police protection.
Despite this, the Roberts family can see no other future beyond the circus.
Bareback riding
Speaking before the trial, Mr Roberts said: "All my life I've been in the circus - tenth generation."
Although he founded the Bobby Roberts Super Circus in 1993, he cut his teeth with the circus founded by his late father and uncle. It was there that he learned acrobatics, bareback riding and wire walking.
He also claims to have toured all over Europe with elephants.
He told the programme: "I've always worked with animals, but since I was about four years old I've come in with my dad and trained the horses and trained everything you can think of.
"Elephants were my thing."
But the case of Anne the Elephant has taken its toll.
"I have emails where our children's lives have been threatened with kidnap," said Mrs Roberts. "Bobby has been threatened with being shot.
"I'm trying to be strong, it's not easy.
"The strain on us has been unimaginable. We just don't know if our nerves can take any more.
"Hopefully the circus will still carry on if anything happens to us.
"Financially, our year has been a complete disaster, but we'll get over that. We're a good family, they've learnt to do without this year so I'm sure they'll carry on."
Mr Roberts defended his record on animal welfare.
"I don't think there's anything cruel (in the circus), we have a strict code from the animal welfare," he said.
He said animal welfare officers "always come and check, and they say to me some of these animals are kept in better conditions than what they are in stables".
Anne is now being cared for at Longleat Safari Park in Wiltshire. Staff there say they were surprised at her general level of health.
Jonathan Cracknell, head of animal operations at the safari park, said the elephant is in very good condition for her age.
Along with pain relief, Mr Cracknell said osteopathy and holistic healers had been used to treat Anne over the last 18 months.
For more on this case, see BBC Inside Out East at 19:30 GMT on Monday 26 November and the BBC iPlayer for seven days after broadcast.