Was Newcastle culvert collapse a warning to other cities?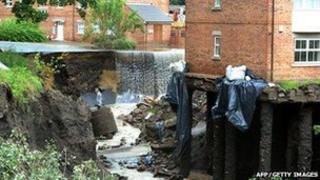 The sight of a block of flats on Tyneside left hanging in mid-air made it onto TV news bulletins around the world.
But was it a freak accident or the sign of things to come? On Monday's Inside Out we're asking just that.
Before the flooding that washed away the foundations at Spencer Court in Newburn few people knew what a culvert was.
It's now clear we should all know about them and, crucially, whether we live, work or play above one.
After the culvert collapsed above Newburn it literally all went downhill from there. Problems cascaded down its length.
Sorting it all out will be a legal and insurance nightmare.
This event revealed what was hitherto a hidden problem. With culverts each section is the responsibility of the relevant landowners.
How many of us realise that if one runs underneath our feet we are supposed to maintain and clean it? This all assumes you even know there is one below you.
After the mayhem caused at Newburn, Newcastle City Council's attempts to draw up a map of where they all are is even more urgent.
Amazingly such mapping had never been done before.
Scores of culverts were built piecemeal over the decades and many were not plotted officially. If you find one, your local council would appreciate a call.
Inside the culvert
I was the first journalist allowed into the collapsed Newburn culvert.
As we waded in there was a tree wedged into the roof.
Alongside, there was a whole mass of rubble no human could hope to lift.
The sheer force of water had brought it all down through the tunnel which measured some three metres wide.
At the exit near the Tyne it had simply all become clogged up.
As the pressure built up massive concrete slabs that had been laid above simply popped up like cardboard, creating another massive flood.
The fear is that these ageing culverts are not being inspected and cleared of rubbish.
With many predicting a wetter climate, consultant engineer John Knapton warns Newburn could be a warning of more problems to come.
History of culverts
We are seeing the legacy of rapid urbanisation in centuries past.
As cities looked to expand they found themselves at loggerheads with age old streams and becks.
Centuries of water flow had worn away the land along its path, creating slopes, ravines and cuts on which you couldn't build. At least not until they came up with culverts.
The theory is simple - build a tunnel over the waterway, cover it over with spoil to fill in the hollow and you create a new flat landscape which you can develop.
One of the biggest such projects in Newcastle was to reclaim the Ouseburn.
Today the underground waterway runs 660 metres between Jesmond Dene and the bottom of Byker Bank close to the River Tyne.
At one time there were plans to build a city stadium on the land that had been clawed back from nature.
The trouble is no-one really thought how we would deal with culverts as they aged. Out of sight really has been out of mind.
What has happened in Newcastle is a lesson for all cities to learn.
Watch Inside Out on BBC One at 19:30 GMT, Monday, 26 November 2012