Anne the Elephant and the end of circus animals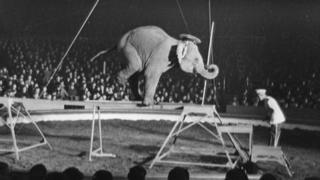 Anne was the last of the UK's circus elephants.
On Friday, Bobby Roberts, 69, of the Bobby Roberts Super Circus, was found guilty of mistreating the 58-year-old elephant. His wife Moira, 75, was cleared of the same charges.
Campaigners say her "shocking" mistreatment was an example of why animals should not be used in the circus.
Others say the Anne case was a one off and decry moves to ban circus animals as the killing of a tradition.
The use of animals in the circus dates back about 150 years.
Before that time, and before the advent of public zoos, those wanting to lay eyes on a menagerie of wild animals would head to a fair.
During the 19th Century, animals were taken on tour and shown to an eager public. Later, they were combined with traditional circus shows.
But that link between animals and the circus could soon be at an end. Legislation is being drawn up for a ban on circus animals by the government.
'Tough licensing scheme'
The Department for Environment, Food and Rural Affairs (Defra) said its work on the bill to ban wild animals in the circus was a work in progress.
And until the ban comes into force, which may not be for several years, Defra is introducing what it says will be a "tough licensing scheme" it claims will "ensure the welfare of wild animals".
A spokeswoman for Defra said the new licensing scheme would start in the new year and would ensure not only set standards of welfare for existing circus animals but also comprehensive plans for the retirement of those animals when the ban takes effect.
Some claim the government's licensing plans are too lax.
Katya Mira, of the RSPCA, said the organisation still had concerns about the government's legislation and when a ban would come into effect.
"We want to see it brought forward. We want to see it happen as soon as possible.
'Nicely looked after'
"The case of Anne really does exemplify the situation of what can happen. Wild animals in the circus are from a bygone era."
The RSPCA is also concerned about how the government's legislation will look once complete.
"Anything short of a full ban is simply unacceptable and will fail to meet the needs of animals such as lions, tigers and zebras," said chief executive Gavin Grant .
"Let's get on with what needs to be done and stop these animals from being dragged around the country in beast wagons or confined to cramped temporary cages."
Jan Creamer, chief executive of Animal Defenders International, voiced doubts about the stop-gap licensing plan.
"Given the circumstances of constant travel, we don't believe it is a realistic solution to attempt to license circuses and set welfare standards.
"Wild animals in circuses live in extremely confined spaces and spend large amounts of their time chained, caged and unable to perform natural behaviours, causing them to perform abnormal, repetitive behaviours indicating the psychological distress and the animal's inability to cope with its environment.
"This causes levels of suffering which can be worse than some of the violence."
Those who work or have worked in animal circuses agree animals should be well looked after.
Sandor Foldi, of Bury St Edmunds, was once dragged across the stage of Olympia by a runaway bear when he worked as a circus hand.
"I think people do enjoy seeing the animals at the circus and how they react to humans," he said. "We had horses, bears, lions and elephants and they were nicely looked after.
"But that was a different time and we have heard recently about people beating their animals up. That, people do not like."
Norfolk author Doug McPherson, an expert on the Big Top, said: "Circuses and animals have been inseparable in history.
"Animals have always been there. If you go back before the television age, in the early half of the last century, if you lived in a small village you probably would never travel abroad, you'd probably never even travel to a big city more than once or twice in your lifetime.
"Where would you see things like a cheetah or a polar bear or an elephant or a tiger apart from the travelling circus? So there was quite an educational role."
The Circus Friends Association says it "supports all reputable forms of circus entertainment" whether or not animals are used.
For more on this case, see BBC Inside Out East at 19:30 GMT on Monday 26 November and the BBC iPlayer for seven days after broadcast.