A11 development plans exhibited in Elveden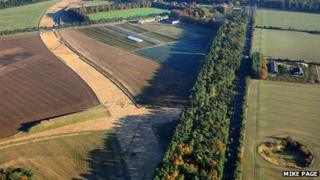 Plans for the multi-million pound development of the A11 through Norfolk and Suffolk are being presented to motorists and local residents.
The Highways Agency project, between Fiveways and Thetford, may cost up to £113m and is expected to be completed by December 2014.
Details about the improvements will be exhibited in Elveden until Saturday.
Work to upgrade the last remaining single carriageway section of the road is due to start in January.
The road improvement scheme will dual and widen 5.5 miles (8.4km) of the A11. The project includes a 3.6 mile (5.8km) Elveden bypass.
The work on the A11 includes plans to designate much of the land through Breckland as a Special Protection Area to secure the habitats of the rare Stone Curlew, Nightjar and Woodlark.
Highways project manager Rob Gibson said: "We are pleased to welcome everyone at the Elveden Village Hall this week to give them an update on what has been happening since we started the advance work in August and tell them more about what is going to happen once the works start in January 2013."
Speaking in October, transport minister Norman Baker said: "The massive improvement on the A11 between Fiveways and Thetford will be delivered by December 2014, so Norwich will finally get the road that it has perhaps been after for some time."