Police and crime commissioners get to work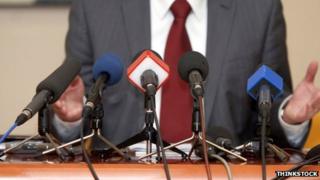 Many Police and Crime Commissioners are due to be sworn in later on the day police authorities across England and Wales are officially replaced.
Already their presence is being felt after the Chief Constable of Avon and Somerset Police announced he would be stepping down.
Colin Port said PCC Sue Mountstevens had asked him to re-apply for his job.
What other changes can the public expect as the PCCs start their four-year terms?
Scrapping business partnering
In England some commissioners have already been sworn in including those in the East Midlands, Staffordshire and Surrey.
A few have already started to put their pre-election pledges into practice.
In the West Midlands Labour PCC Bob Jones announced he was scrapping the force's plans for business partnering.
Speaking on his first day in the job, Mr Jones also announced a new technology task force.
In Wales four PCCs will start their new jobs on Thursday while in England at least 17 will be sworn in.
During the election campaign many candidates made general pledges to cut crime and put victims first.
But a number of candidates released manifestos with very specific plans for their police forces.
In Gloucestershire independent PCC Martin Surl has promised to set up a charity called the Commissioner's Fund within six months of taking office.
On his website he promised to use a proportion of his salary to set up the charity which he said would "support individuals and groups that would not normally attract mainstream funding".
Also promising to donate a proportion of his salary to charity was independent West Mercia PCC Bill Longmore.
He said he would donate £20,000 of his £75,000 salary to a charity fund to support crime prevention measures and help the victims of crime.
In Humberside Conservative PCC Matthew Grove identified a number of strategies to cut crime.
On his website he said: "For those whose drunken, anti-social behaviour blights our streets at night I will be looking to charge them for the cost of the police time spent dealing with them."
Police funding was one of the main concerns for Labour PCC Mark Burns-Williamson during the election campaign.
In his election statement he said he would fight for West Yorkshire Police to keep all money collected from criminals through the Proceeds of Crime Act.
In North Yorkshire voters can expect to see the police headquarters at Newby Wiske Hall closed and officers redeployed to "more modern, cost-effective facilities".
Conservative PCC Julia Mulligan said the Grade II listed mansion costs about £820,000 a year to run.
'Name their officer'
"This amount is the equivalent of approximately 30 police constables," she added.
In Cheshire Conservative PCC John Dwyer said before the election that he would introduce a "sentencing unit" to monitor punishments on behalf of victims of crime and, where necessary, "campaign for tougher sanctions".
He also promised to increase the number of Specials to 1,000 with one for every town and village.
In Warwickshire independent PCC Ron Ball wants to strengthen neighbourhood teams where police officers have a local area which they are based in where they build their profile in the community.
In his manifesto he said: "It is my aim that the majority of voters will be able to name their local officer and that all of the local criminals will know who it is."