River Mole flood defence dam plans explained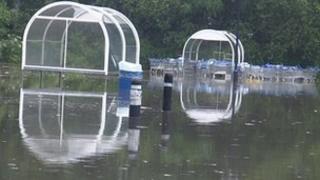 Plans to replace a dam as part of a £15m flood defence scheme will be explained at a drop-in session before the proposals go before councillors.
The Upper Mole flood alleviation scheme will cut the flood risk to more than 1,000 properties in Sussex and Surrey, the Environment Agency said.
Work on dams at two sites is under way and plans to replace a third dam near Balcombe will be considered next month.
Environment Agency staff will be in Balcombe to answer questions next week.
'Bigger dam'
Operations manager Tim Connell said the scheme was a significant project for communities at risk of flooding from the River Mole.
He said staff at the drop-in session on Tuesday wanted to hear residents' views ahead of work to replace the existing dam at Clay's Lake with a new, larger structure that would enable storage of additional water.
The whole flood defence scheme includes construction of three flood storage reservoirs along the river.
The Environment Agency has said the scheme will reduce the risk of flooding to properties in Crawley and Horley, and also Gatwick Airport.
Heavy rain this summer left parts of Horley under water and led to two flood warnings on the River Mole after levels rose.
Mid Sussex District Council's planning committee is due to consider the plans on 6 December.