Inmate Gary Vinter sentenced for Roy Whiting attack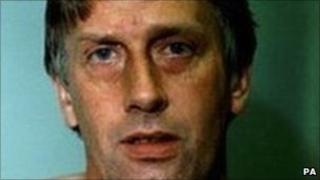 Child killer Roy Whiting was stabbed at Wakefield jail by an inmate because of his notoriety, a court has heard.
Gary Vinter, of Middlesbrough, attacked Whiting in the eyes with a sharpened toilet brush handle in July 2011.
Double murderer Vinter, 42, picked the killer of schoolgirl Sarah Payne in an attempt to get his own jail conditions changed, Newcastle Crown Court heard.
Vinter, who admitted the attack, was given an indefinite sentence with a notional five-year minimum jail term.
He had pleaded guilty to the charge of wounding with intent at a previous hearing.
Full recovery
Whiting, a convicted sex offender, was sentenced to life in prison in 2001 for the murder of eight-year-old Sarah, who disappeared while playing near her grandparents' home in Kingston Gorse, West Sussex, in July 2000.
Her body was found in nearby Pulborough 17 days later.
Two years ago, Whiting had the minimum term of his life sentence reduced by 10 years, to 40.
After the attack in his cell at the West Yorkshire prison he received emergency care at Pinderfields Hospital and made a full recovery.
Vinter appeared via a videolink from Long Lartin Prison, Worcestershire, before Mr Justice Openshaw sitting at Newcastle Crown Court.
He told the court: "He [Whiting] was a dirty little nonce. That's why I did it."
Kicked and punched
Andrew Kershaw, prosecuting, said: "On the second stabbing the tip of the weapon broke leaving a piece of plastic in this victim's eye socket."
Vinter then kicked and punched Whiting as he lay on the floor, before he left the cell.
He later told prison authorities "the only reason Whiting was still alive is he got tired during the attack," Mr Kershaw said.
Vinter, who is serving a whole life sentence after murdering a workmate in 1996 and his estranged wife in 2008, picked out Whiting for his notoriety, the court heard.
After he was sentenced on Wednesday, he said: "Thank you very much judge, it has been a pleasure."