Conmen jailed for building scams on elderly people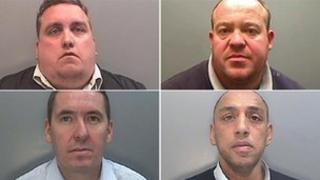 Four conmen who swindled almost £600,000 from the life savings of vulnerable and elderly people in Cheshire have been jailed.
The gang tricked their four victims into spending thousands on expensive building work they did not need, Chester Crown Court heard.
Judge Nicholas Woodward said the scale of the frauds was "breathtaking".
Mark Dodd, 50, Neil Jones, 38, Kevin Sweeney, 37, and Paul Williams, 50, were all jailed.
The court heard the men had worked together for various building companies over the years.
Forged cheque
In one of the frauds, they tricked a victim into letting one of the gang buy a Chester bungalow for about £40,000 less than it was worth from retired GP Dr Peter Grant.
Dodd, of Booker Avenue, Aigburth, Liverpool, pleaded not guilty to conspiracy to defraud but was found guilty by a Chester jury on 1 October.
Jones, of Dibbens Way, Bebington, Wirral, tried to pass himself off as a financial adviser and tricked his way into the trust of Beatrice Price, who was 80 when she was targeted.
Jones admitted conspiracy to defraud Ms Price, of Hooton, Wirral, over building works to the value of £49,535.
He also pleaded guilty to conspiracy to defraud Dr Grant over building works to the value of £445,000 and conspiracy to defraud him over the sale of the bungalow.
The court heard Jones tricked Dr Grant into dropping the price of his sister's bungalow and their former family home, which he was selling for her because she had learning difficulties, by £40,000.
The property was subsequently bought by Sweeney for the reduced price which was a fraction of its true value.
Sweeney, formerly of Huyton, Liverpool, pleaded guilty to the same charges as Jones.
He now lives with his wife, Nicola Sweeney, in the cottage formerly owned by Dr Grant.
Williams, of Deverille Road, Tranmere, worked for the other defendants as a self-employed salesman, apparently selling door-to-door, the court heard.
He pleaded guilty to two offences: theft of £7,840 from Beatrice Price and theft of £14,750 from 83-year-old Winifred Owen.
'Cheating people'
The court heard he tricked his way into Ms Owen's house in Great Boughton, Chester, and forged her signature on a cheque to his daughter.
Judge Woodward sentenced Dodd to five years, Sweeney to four-and-a-half years, Jones to four years and Williams to 18 months in jail.
Dodd, Jones and Sweeney have also been disqualified from being company directors for eight years.
Nicola Sweeney pleaded guilty to transferring the proceeds of the fraud committed on Dr Grant, worth around £57,000.
Judge Woodward sentenced her to 10 months in jail, suspended for two years.
He called the defendants "conmen" who took advantage of others who were rendered vulnerable, "whether by old age or simple naivety".
He said the gang carried on fleecing the victims "despite the fact you realised you were cheating people out of their accumulated life savings".
Judge Woodward added: "These were truly heartless offences and they left your victims both emotionally and financially bereft."
The four men were caught after trading standards officers from Cheshire West and Chester Council and Cheshire Police spent two years investigating their dealings.