Crackdown on lorry crime launched in North West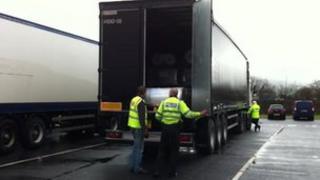 Lorries are being stopped and searched by police on motorways in the North West in a crackdown on organised crime.
The roadside patrols will check heavy goods vehicles to see if they are carrying any illegal loads or have committed any traffic offences.
The North West Regional Crime Unit, Titan, said drugs, guns and fake alcohol are often smuggled to the UK and brought to the region in lorries.
It is focusing on disrupting criminal activity in the haulage industry.
The crackdown - called Operation Hedgehunter - is aimed at targeting what police call the "movers and shakers" in organised crime.
'Rogue elements'
Det Ch Insp Janet Hudson said: "This is the first time that Titan has led an operation targeting haulage companies as the movers and shakers in serious and organised crime in this region.
"By targeting rogue elements within the haulage industry we are disrupting this supply chain, driving the criminal element out of trucking and firing a warning shot across their bows that we are going to be looking very closely at their business practices."
She said the majority of haulage firms were run by law-abiding people, but that some were using the proceeds from organised crime to expand their businesses unfairly.
"My message to them is help us put a stop to this by sharing what you know about suspicious or illegal activity in your industry," she added.
The operation comes after millions of pounds of drugs were seized from lorries targeted across the country.
Stephen Newland, of Burscough, was jailed in September for trying to smuggle 45 kilos of cocaine through the port of Dover.