Prescott claims press 'kicking' harmed PCC election bid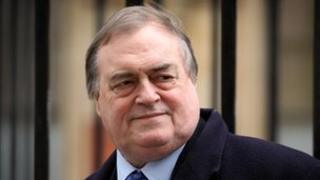 John Prescott has pledged to remain politically active despite being defeated in the election for police and crime commissioner (PCC) in Humberside.
The former deputy prime minister said negative newspaper coverage had overshadowed much of his campaign.
In an interview with the Hull Daily Mail Lord Prescott said: "I had the most damaging attacks by the national press during the campaign. I can't think of another candidate that had the nationals lining up against them.
"Only one didn't give me a kicking. Thank God for the regionals is all I can say."
Lord Prescott has been critical of the supplementary vote system used in the PCC elections in England and Wales.
In the Humberside force area, he secured the most first preference votes of the seven PCC candidates.
However, when second preference votes were taken into account the Labour peer lost to Conservative Matthew Grove by 42,164 votes to 39,933.
Mr Grove has defended the voting system which secured his victory against the man who represented Hull East in Parliament for 40 years.
Speaking to the BBC Sunday Politics in Yorkshire and Lincolnshire, Mr Grove said: "If it had been the first-past-the-post system, then some people would have voted differently.
"We had the electoral system that was presented to us and the people decided."
Turnout in Humberside was the second highest in the PCC elections at 19.2%.
Lord Prescott has said he is unlikely to stand for election again, but insisted he would "not be sitting around in my slippers".
The Labour veteran has a large following on Twitter and has campaigned for tighter press regulation in the wake of the Leveson Inquiry.
A leading bookmaker has suggested the former deputy prime minister is odds-on to appear in a reality TV show before the end of next year.
John Prescott's spokesman responded: "John will never appear on 'I'm a Celebrity'. The only jungle he is interested in is the political one."