Footballer Rob Hughes cannot remember Greece attack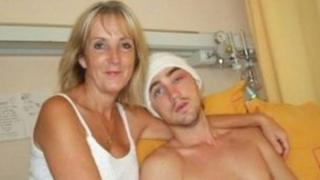 A former Oxford United footballer has told a court in Greece that he could not remember an attack which left him brain damaged.
Six men are accused of causing grievous bodily harm to Rob Hughes, 31, of Croydon, London, in Crete in June 2008.
The defendants, who are all British and are standing trial in Greece, deny the charges.
Mr Hughes, who suffered memory loss, broke down in tears when called as a witness at the trial.
The judge asked him to turn to face the defendants and identify who was responsible.
But Mr Hughes looked down, shook his head and said: "I just can't do that".
The defendants are Curtis Taylor, Daniel Bell and Sean Branton, from Horley, in Surrey, Benjamin Herdman, from Worth, West Sussex, George Hollands, from Reigate, in Surrey, and Joseph Bruckland, from Hookwood, in Surrey.
Mr Hughes has severe memory loss and did not remember his family following the assault.
The trial continues.