John Constable study used as tracing for sale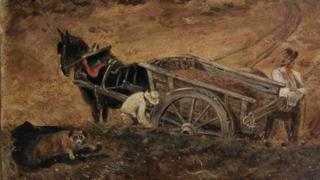 A John Constable painting that experts say reveals how the artist worked with his studio assistant is for sale.
The study of figures and wagons was later used in finished paintings of Branch Hill Pond, Hampstead, in 1825.
Experts at Bonhams auctioneers said indentations around the figures show that Constable's assistant traced the study for use in the larger paintings.
Bonhams said the study is expected to fetch up to £80,000 at auction in December.
Constable employed Johnny Dunthorne as his studio assistant at Charlotte Street, London, where the study and paintings are believed to have been produced.
Dunthorne was the son of Constable's friend John Dunthorne Sr, who he used to go sketching with in the Dedham Vale in Essex and Suffolk earlier in his life.
Dave Dallas, director of Old Master paintings at Bonhams, said: "We knew that Johnny Dunthorne mixed colours, prepared canvasses and did the basic outlining of the landscapes because Constable mentioned it in his correspondence.
"We suspected tracings were done in the studio, but this implies Dunthorne traced this study and popped it into the main painting.
"They're very typical, wonderful Constables painted at the height of his powers just after he'd won the gold medal for The Haywain at the Paris Salon."
Mr Dallas said he examined the study and noticed indentations around the outlines of the figures, implying that Mr Dunthorne traced and transposed them to the right hand corner of the two larger paintings, which are in galleries in the United States and Switzerland.
The study is 10 inches (25cm) wide, while the figures are the same size in the Branch Hill Pond paintings, which are 30 inches (75cm) wide.
Bonhams expects the study to fetch between £60,000 and £80,000 at a sale in London on 5 December.