Great Western electrification could be extended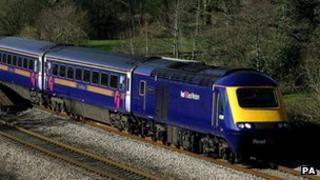 Extending the electrification of a Great Western branch line is to be considered by the government.
Currently, electrification plans for the line from London Paddington to the south west stop at Newbury in Berkshire.
MPs from west Berkshire and Wiltshire met rail minister Simon Burns to ask for an extension along commuter lines to Westbury, Bath and Swindon.
Mr Burns said he would look to see whether there was a "viable case".
BBC South transport correspondent Paul Clifton has learned Network Rail has been asked to look into the financial viability of three options.
The first would electrify 14 miles of line between Newbury and Bedwyn, the second a 53-mile section to Westbury and the third, the potential to link the line to Swindon and Bath allowing connections into the Mendip stone quarries at East Cranmore and Whatley.
Commuter concern
It would create a secondary route for electric trains between London and Bath and Bristol.
Newbury MP Richard Benyon was part of the meeting with Mr Burns alongside Claire Perry, MP for Devizes, and Westbury MP Andrew Murrison.
Mr Benyon said: "The overriding concern is the future could mean lesser services for commuters west of Newbury.
"The government is keen for regeneration projects that boost the economy and this could certainly be one of them.
"While the minister couldn't give us a commitment one way or the other, it's good to see him reversing the decision of the previous government by agreeing to look into it."
Steve Smith, of the Bedwyn Trains Passenger Group, said: "We are concerned that this review is only for electrification.
"It should also encompass the option of an hourly semi-fast train between Paddington and Exeter. The review should be for the retention of our services and not just electrification."
Mr Burns said: "Rail electrification hugely benefits passengers by enabling faster, more reliable train services.
"I have agreed to look again into whether there is a viable case to extend the government's plans to electrify the Great Western main line beyond Newbury to Westbury."