Yorkshire and Humber police unit mergers considered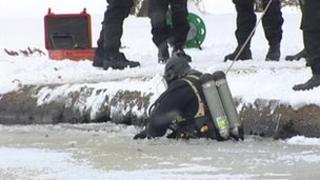 More police services are likely to be shared across the Yorkshire and Humber region as its forces try to save money.
Dog units and firearms teams are among those that could merge in 2013, South Yorkshire Police documents show.
In September a regional diving team was set up and a possible mounted section merger was revealed.
A local Police Federation member has criticised the moves. The body which runs the merged operations said savings could bolster frontline policing.
South Yorkshire Police's Local Policing Plan states that proposals to merge firearms, dogs and mounted sections are among those being considered and could be implemented next year.
'Way forward'
Some forces already share human resources, IT services and training facilities, it says.
Neil Bowles of the South Yorkshire Police Federation said: "It's a very dangerous move, I think, regionalising such vital operational resources like that.
"When it comes to uniformed cops doing the job, enforcing the law, getting into the communities, getting the respect, you need one-on-one contact, you need to know who you're dealing with."
Deputy Chief Constable Mark Whyman, head of collaboration for policing Yorkshire and the Humber, said he could not rule out a complete merger of the four forces in the future but said there were no current plans to do so.
"For the time being collaboration is, in my view, the way forward," he said.
Mr Whyman said merged sections were delivering savings of up to 30%.
"Of course that is money that helps support neighbourhood and response policing.
"Policing is changing, there's no doubt about it."