East of England Ambulance Service to review its rural services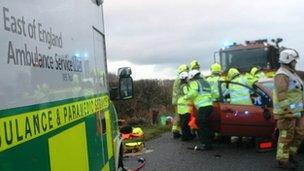 An ambulance service criticised by MPs for its response times has commissioned an independent review into its services, particularly in rural areas.
The East of England Ambulance Service (EEAS) said it had asked for the review "regarding service delivery in Norfolk".
The trust has also employed an independent senior clinician to look at the way it operates.
After reviewing Norfolk services, regional concerns will be looked at.
Norman Lamb, health minister and Lib Dem MP for North Norfolk welcomed the review, saying decisive action was needed not only to build public confidence in the service but also to rebuild the trust of staff.
"They [EEAS] have responded quickly and now we have to ensure that it's of substance, not just rhetoric," he said.
"We need to ensure that people in the rural areas get to the hospital on time."
In a statement the trust said: "The East of England Ambulance Service Trust can confirm they have commissioned an independent review regarding service delivery in Norfolk and the trust is working on the terms and references for this."
It is expected the audit will start just before Christmas and conclude next spring.
Earlier this month EEAS agreed to give monthly updates to east of England MPs on its response times.
It followed concerns over the length of time the trust took to answer some call-outs, particularly in rural areas.
In October, the chief executive of the trust, Hayden Newton, announced his retirement within the next few months.
The ambulance service covers Bedfordshire, Cambridgeshire, Essex, Hertfordshire, Norfolk and Suffolk.
Related Internet Links
The BBC is not responsible for the content of external sites.