Devon and Cornwall PCC Tony Hogg to 'walk the beat'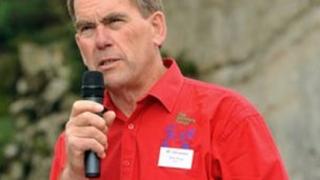 The new police and crime commissioner (PCC) for Devon and Cornwall has said he will "walk the beat" to understand his force and region.
Conservative Tony Hogg was elected on Friday after securing 64,419 votes, 65.1% of the final vote.
Despite a turnout of 14.7%, Mr Hogg said his job was "very important".
He said his priorities included boosting the force's morale and focusing on helping young people "hovering on the edge of crime".
Authority 'failure'
"We've had a police authority for a number of years, they've worked hard, but they failed on one respect which is to connect with people in their policing area and that's one of my primary roles," he said.
"I want to look at all mechanisms - modern social media, emails - and more importantly dealing with people who don't access those system and getting out and walking around Devon and Cornwall and talking to people.
"I've pledged to walk the beat."
Mr Hogg said he hoped to provide strong leadership to the force which is expected to go from 3,500 officers to 2,800 by 2015 due to spending shortfalls.
Election investigation
"I've got a lot of listening and learning to do in the first instance but I will look within the first six months to the first year to give people the impression that there is someone there very committed to the job," he added.
The Electoral Commission is to look at the low turnout after fewer than 15% of voters turned out in the 41 English and Welsh police areas, a peacetime low.
Mr Hogg said: "People should be concerned about it but we have to remember that this is the first time for this very new role.
"I think that people just didn't have enough information in enough time, so they didn't vote."
His official start date is 22 November, but Mr Hogg said he would start the job "immediately".