Volunteers to test accessible paths in North Pennines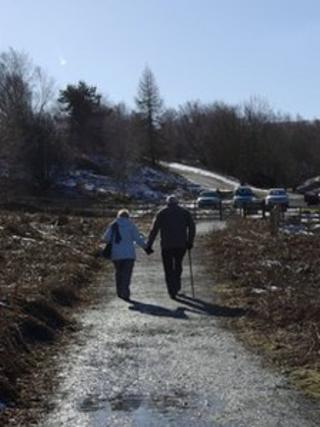 Volunteers are being sought to test the accessibility of paths in rural beauty spots across the north east of England.
The North Pennines Area of Outstanding Natural Beauty (AONB) Partnership wants to develop a web-based guide to walks suitable for those with mobility difficulties or families with buggies.
Twelve routes have been identified in areas including Talkin Tarn, Derwent Reservoir, Allenbanks and Bowlees.
The partnership is asking people to help check these for suitability.
It hopes disability groups, mother and toddler groups, and people who have special mobility requirements, will get involved.
'Stunning landscapes'
Shane Harris, from the AONB partnership, said: "This is really important work and will lead to better and more accessible information.
"Limited mobility can be permanent or temporary, severe or slight - it might be a family with a pushchair, or someone recovering from knee surgery or a heart attack.
"Whatever the circumstances or cause the ability to easily access the stunning landscapes and fresh air of the AONB is something that everyone should be able to do."
The North Pennines AONB spans spans Cumbria, Northumberland, County Durham and Teesdale.