Conservatives reflect as Labour romps home in Corby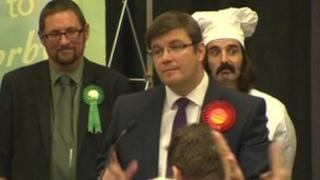 The Conservative campaign for Corby did not get off to the best of starts when one of the press releases announcing their candidate stated that she would be standing in "Corby and North East Hampshire".
The following week the prime minister made his only visit to the Northamptonshire town, staying for a whole hour and a half while we, the local press, were only allowed access for a couple of minutes.
Even without such a chaotic beginning to their campaign, the Tories were always going to struggle to hold on to this seat.
Not only were they 10 points behind in the polls but their last MP had not been sufficiently visible in the constituency, we were told. Her sudden departure did not add to her popularity.
Within minutes of the polls closing, Louise Mensch tweeted that the loss of her former seat was: "Not a verdict on the Conservatives but only on the decision I took to step down mid term.
"Though I had to resign to unite our family, there was large and entirely understandable local anger."
Mensch factor
The Conservatives say the "Mensch factor" was raised quite a lot on the doorsteps. Among Tory MPs there is a lot of anger with Mrs Mensch for going so suddenly and leaving them with a by-election that would be almost impossible to win.
"It doesn't look good," said one. "She's seen as having just taken off with her rock friends."
"We could have cut her a deal so that she could do more with her family," says another. "Having her around for the really important votes would have been much better than not having an MP."
But Mrs Mensch was not the main reason behind this defeat. In the hustings, the radio phone-ins and in the focus groups, one issue dominated: jobs and the economy.
Rising youth unemployment
"It was the number one issue on the doorsteps," says Ian Austin, who ran the Labour campaign.
"This is the constituency with the fastest rising youth unemployment in the country. I do think people were really concerned.
"Our plans for a tax on bankers to fund jobs for young people went down well with voters."
Yet the Conservatives believe there was a positive story to tell about the economy: unemployment was coming down, more businesses were choosing to set up in Corby than almost anywhere else, lots of apprenticeships were being created.
It seems the voters of Corby simply didn't see it that way.
Hospital's future
The row over the future of Kettering Hospital also played badly for the Conservatives. They refused to admit that it could lose some of its services even though the hospital's own documents made it clear that change was inevitable. Instead they attacked Labour's claims.
And then there was the issue of immigration.
"It really surprised us how big an issue it was," says Lisa Duffy, UKIP's campaign manager. "I didn't come here to talk about it but voters wanted to talk to us about it.
"It is Eastern European immigration that really worries people, it's having an effect on jobs, the local health service and in the schools."
It's easy to dismiss this result as a typical mid-term reaction from an unhappy public. But Corby matters because it is a bell-weather seat. With the town of Corby and the rolling countryside of East Northamptonshire, it is seen as a microcosm of the country.
Whoever wins here normally goes on to form the next government and that's why this result is important. It is a useful barometer about what the country is most worried about and where its political loyalties lie.
So even with two and a half years to go, there's a great deal for the Conservatives to think about.