Kate Stanton-Davies case: 'Lessons must be learnt'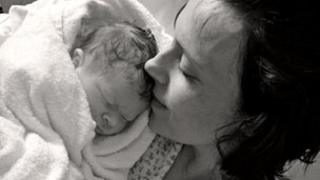 The parents of a baby girl who died six hours after being born at a Shropshire community hospital have said they hope lessons can be learnt from her death.
Kate Stanton-Davies was born with anaemia at Ludlow Community Hospital and transferred to Birmingham's Heartlands Hospital before she died.
An inquest heard problems with the baby were spotted in pregnancy and the birth should have been at a specialised unit.
Coroner John Ellery reserved his judgement to a later date.
Mr Ellery, coroner for mid and north Shropshire, said he was planning to make a list of recommendations about how NHS maternity care is organised in Shropshire.
The eight-day inquest at South Shropshire Coroners' Court heard Kate's birth in March 2009 had been normal and she weighed a healthy 7lb 14oz.
However, it soon became clear she was very pale, had poor ability to move her limbs, would not feed and was cold. She later collapsed.
Ms Davies told the inquest, that ended on Friday, how she became frightened a month before she was due to give birth because the baby had stopped moving.
'Rare and tragic'
South Shropshire Coroners' Court heard that Ms Davies went to Ludlow Community Hospital twice in February 2009 for heart traces. She was admitted to the Royal Shrewsbury Hospital (RSH) but discharged the day before she went into labour.
Following medics' concerns after the baby's birth, Kate was originally due to be transferred by ambulance to the RSH.
But after she collapsed, a decision was taken to transfer her by air ambulance to Birmingham Children's Hospital, the inquest was told.
While in the air the baby was diverted to Birmingham's Heartlands Hospital, but arrived with no medical notes, the inquest heard.
The baby's parents told the inquest they were left behind in Ludlow because they were not a clinical priority for an ambulance.
Kate's mother Rhiannon Davies said: "[So] Kate did not die in vain, lessons must be learnt and changes implemented to ensure no other family endures what we have been through and no innocent baby has to lose their right to life."
Brain damage
Cathy Smith, head of midwifery at the Shrewsbury and Telford NHS Trust, said this was "a rare and tragic case" and offered sympathies to Kate's family.
In a statement after the inquest, West Midlands Ambulance Service offered its "sincere condolences" to Kate's family.
The service said an ambulance was only ever requested for Kate. It said that later on, when a rapid response vehicle was sent to pick up her mother, Ms Davies had turned down the lift, saying she wanted to travel to Heartlands Hospital with her husband instead.
A pathologist told the hearing Kate died from a brain damage due to a profound lack of oxygen or blood supply or both, caused by congenital anaemia.