Shafilea Ahmed's sister avoids jail term over robbery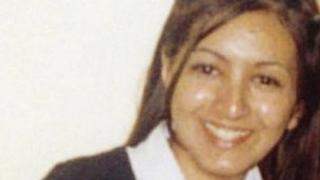 The sister of murdered 17-year-old Shafilea Ahmed has avoided a jail term after admitting her part in an armed robbery at her parents' home.
Alesha Ahmed, 24, was arrested in connection with the robbery in Warrington, Cheshire in August 2010.
She was given a 12-month suspended sentence at Southwark Crown Court after pleading guilty in April 2011.
Her parents Iftikhar and Farzana Ahmed were jailed for life in August after being convicted of murdering Shafilea.
Southwark Crown Court heard the teenager's arrest ultimately led to the conviction of her parents for the murder.
It was in a police interview that she told officers she had seen her parents kill her sister seven years earlier.
'Life overshadowed'
The jury was told that she helped organise the robbery at the family home in Liverpool Road.
Three masked men broke into the house, tying up Farzana Ahmed and three of her children.
They were armed with a gun, a hammer and an iron bar and ransacked the property before fleeing with cash and jewellery.
Her brother was kicked as he lay on the ground by a man wearing a steel toe-capped boot, and Mevish, one of her sisters, was hit in the shoulder with the hammer, the court heard.
Mr Justice Irwin told Alesha Ahmed, who is part of a witness protection scheme, that the normal sentence for a serious crime of this kind would be a significant jail sentence.
The judge described her story as "extraordinary and terrifying", but said he was confident she would not re-offend and suspended her sentence for two years.
He said: "In my view, this is a case for mercy.
"I bear in mind all of the extraordinary circumstances I have outlined, in particular the truly appalling nature of what you had to witness, the impact this has had on you, and what you went through to be a witness."
He added her role in the robbery was "crucial", but there was a "degree of unreality" about how she behaved.
CCTV
Cheshire Police appealed for anyone with information about the robbery to come forward.
Det Insp Dougie Shaw, who is leading the investigation, said: "The men involved in the robbery remain outstanding.
"Enquiries are ongoing to identify these offenders and ensure they are brought to justice."
CCTV images of two men police wish to trace in connection with the incident have now been released.
The men are pictured at a petrol station in the Castle Bromwich area of Birmingham on 25 August 2010.
Shafilea Ahmed went missing from the family home in 2003 and her body was found in the River Kent in Cumbria six months later.