Cambridgeshire PCC election: Tory Sir Graham Bright wins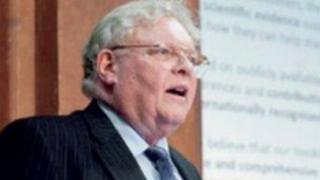 Conservative Sir Graham Bright has been chosen as Cambridgeshire's first police and crime commissioner (PCC).
He beat Labour's Ed Murphy after second preference votes were counted as neither managed to get 50% of the votes.
Directly-elected PCCs are replacing police authorities and will be responsible for controlling budgets and setting police priorities.
Turnout across the county was 14.77%.
Sir Graham received 31,640 votes while Mr Murphy received 25,114 votes.
Out of 599,894 registered voters, 88,603 voted in the PCC election.
Results were announced at the Ross Peers Sports Centre in Soham.
'Big task'
Businessman Sir Graham, said it was "an unusual election" involving "a lot of cold nights".
He added: "This brings us back to the police actually operating by consent.
"One of the roles I will have as commissioner is to be the face of the public and to represent all the public."
He said he would listen and work for everyone, including those who "didn't vote, or spoilt their ballots".
"I'm looking forward very much to working with the police and their partners," he added.
He said it was a "big task" but added: "I am determined to get to grips with it and to do what I'm supposed to be doing - representing the public, holding the police to account."