Thames Valley PCC: Conservative Anthony Stansfeld elected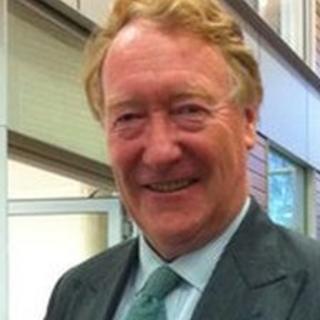 Conservative Anthony Stansfeld has been elected as Thames Valley's first police and crime commissioner.
He beat Labour's Tim Starkey on second preference votes after neither candidate managed to get 50% of votes in the first round.
The result comes amid a low turnout across the Thames Valley of just 13.3%.
Mr Stansfeld will take up the job from 22 November when he will oversee the largest non-metropolitan police force in England.
After the second round of voting, Mr Stansfeld polled 94,238 votes compared to Mr Starkey's total of 70,403.
However, 3.3% of ballot papers were spoilt in the election with more than 7,000 discounted from the final total.
'A privilege'
Despite the poor turnout, Mr Stansfeld described his election as a "privilege".
He said: "It's been a complex and difficult election that's been handled extremely well.
"I am honoured to be elected as the first ever police and crime commissioner for the Thames Valley. The turnout was small, but having an election in the depth of winter, it's no real surprise really.
"It's been a very reasonable campaign and I have to pay tribute to my fellow candidates for making it so."
Mr Stansfeld, from Kintbury, West Berkshire, will now be responsible for controlling the budget and shaping the direction of the Thames Valley police force.
In his acceptance speech, he warned the electorate not to expect "miracles" with current cuts in budgets in place.
He added: "I'm taking on this job in a bid to reduce crime, but we all know that's a lot easier to say than to actually do.
"The police are only one part of the system and if the criminal justice system and the crown prosecution service are not working properly than that's one area to address.
"Thames Valley Police has shown its resilience in recent years by actually improving its performance in the face of tighter budgets and I think that's very encouraging."
Mr Stansfeld saw active service in Borneo and Northern Ireland during a career in the Army before becoming managing director at an aircraft company.
The police and crime commissioner will indicate their proposed budget and council tax precept for 2013/14 in December. Their Police and Crime Plan will be published by March 2013.
Thames Valley Police Chief Constable Sara Thornton said: "I would like to congratulate Mr Stansfeld on his election victory and look forward to working together on behalf of the people in the Thames Valley."