Devon and Cornwall PCC: Conservative Tony Hogg elected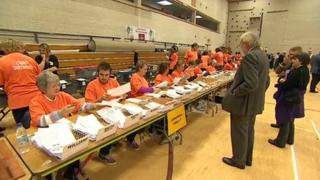 Conservative Tony Hogg has been elected as Devon and Cornwall's first police and crime commissioner (PCC).
After second preference votes were taken into account, Mr Hogg was elected with 35.24% of the final vote
His nearest rival of the nine other candidates standing for election was Independent Brian Greenslade.
Turnout in Devon and Cornwall, where 1.3m people were eligible to vote, was 15.1%, according to Cornwall Council.
But speaking after his win, Mr Hogg played down the issue: "We've been worried about the turnout but we'll take that in our stride.
"This is November. It's the first time we're doing this brand new way of managing the police in this particular policing area and across the rest of UK. I for one believe entirely in it."
Mr Hogg was declared the victor after counts were made of second preference votes by more than 300 election staff at Carn Brea Leisure Centre in Camborne.
Spending shortfall
Eliminated on first preference votes were: Liberal Democrat Brian Blake, Independent Graham Caderwood, Independent Ivan Jordan, Independent Tam Macpherson, Independent William Morris, Independent John Smith, UKIP candidate Robert Smith (UKIP) and Labour candidate Nicky Williams.
The council, which is overseeing the vote, said the turnout had varied between 13.03% in Plymouth and 17.46% in West Devon.
In the Isles of Scilly, votes were counted in St Mary's and the result phoned through to Carn Brea.
The new commissioner will have the power to "hire and fire" the chief constable of Devon and Cornwall Police - a role currently held by Acting Chief Constable Shaun Sawyer.
Voting on Thursday took place at more than 1,300 polling stations - staffed by nearly 4,000 people - across 12 local authority areas in Devon, Cornwall and the Isles of Scilly.
The constabulary, which covers one of the largest geographical police areas in England, currently has an annual budget of about £255m.
In March 2010, it had 3,500 officers, but that number is expected to drop to 2,800 by March 2015 because of spending shortfalls.
The aim of the new role, which will replace the existing Devon and Cornwall Police Authority, is to make police more accountable.
The commissioner will set out the force's budget and also decide the local policing priorities area.