First Bus strike: 'Disruption' in Devon and Cornwall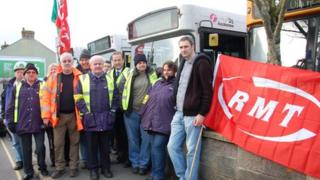 A strike by First Bus Group staff has been causing "serious disruption" to services in Devon and Cornwall.
Drivers, engineers and back office staff walked out at 00:01 GMT for 24 hours as part of dispute over pay.
First said with the help of managers driving buses, it was running "slightly more" services than on 26 October when a strike disrupted 90% of services.
It said information was available on its website, Twitter and Facebook. BBC Travel is also tweeting updates.
School and college services are being prioritised but First is advising travellers to expect severe disruption and cancellations on other services.
Spokesman Chris Bainbridge said: "We are managing to run slightly more than we did on the previous strike day but there is serious disruption across both counties."
Managers and supervisors were driving the buses, as well as a "handful of drivers".
'Last straw'
Workers walked out after failing to reach an agreement with the company over a proposed pay deal.
Managers from the bus company and the RMT union have held meetings over a pay offer which guaranteed staff a 2% pay increase from 2 December, followed by a 2.3% increase from April 2013, but this was rejected.
Phil Bialyk, from the RMT, said: "Members believe the company has been stalling to delay any rise. This rise has not been backdated, which has been the last straw for them.
"They're not prepared to accept the offer because the company, in their view, has not been straight with them."
'Deeply regrettable'
First said that despite the strike, some services including to Truro College, a shuttle bus between Falmouth and Tremough Campus and the Eden Rider would run as closely to schedule as possible.
In Devon there will be a reduced park-and-ride service in Plymouth, and a service will run from the city to Tavistock College.
Mr Bainbridge said: "We are incredibly disappointed and frustrated that the union has called for this action for a second time, despite an improved offer being put to our staff.
"We need to find a way forward.
"All businesses are under a great deal of cost pressure and we have explained that to the unions but every offer we have put on the table is not enough as far as the unions are concerned."
The company employs 675 people in Devon and Cornwall.