Stafford Hospital's former boss takes up charity role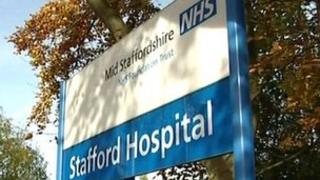 The chief executive who ran Stafford Hospital when it was severely criticised by the Healthcare Commission is now running a healthcare charity.
Martin Yeates is chief executive of Impact, which gives addiction and alcohol-related help in Shropshire.
Mr Yeates left the NHS in 2009 just before the commission produced a damning report into the hospital.
He said said he was now leading "a great organisation" providing services for people who need support.
A public inquiry was set up after a Healthcare Commission report in 2009 found "appalling standards" of care at Stafford Hospital.
Mr Yeates was too ill to appear at the inquiry and provided a written statement instead.
'Very difficult time'
Publication of the final report from the public inquiry into failings at Stafford Hospital has been delayed until January 2013.
When the BBC contacted Impact's offices in Telford, Mr Yeates said it would be inappropriate for him to comment ahead of the public inquiry and that he had nothing further to say that was not in his written statement.
He said he began his new job at the end of August after "a very difficult time" from which it took him "a long time to recover".
He added that Impact knew about his past.
In his written evidence to the inquiry last year, Mr Yeates, who could not be cross-examined, said nothing good came out of the original Healthcare Commission investigation in terms of the hospital's future.
The investigation had stifled progress and was a distraction, he felt.
Mr Yeates had 13 years experience at director level in the NHS before joining Mid Staffordshire NHS Trust.
He said in his statement that he had arrived at the trust in 2005 to find no clinical governance and bizarre management structures.
He felt that the trust had "turned a corner" and was making good progress by the time the Healthcare Commission's report was published in March 2009.